TRUE GHOST STORIES FROM CORNWALL
Haunted Cornwall is a gateway to the spectral realm and there is much here to attract and engage the attention and the interest of the intrepid seeker after the mysterious and the paranormal.
Indeed, haunted Cornwall offers such an abundance of myth and legend that, over the centuries, a formidable array of supernatural and fantastical tales have been woven against its rich backcloth of bleak moors, rugged coastlines and sleepy villages.
"[It] is pre-eminently the region of dream and mystery," wrote Thomas Hardy after his first visit to Cornwall in 1870, and few who have stood on its windswept cliffs or explored its highways and byways can disagree with his description.
There is little doubt that Cornwall is a special place and you can sense its otherworldliness throughout the county.
Indeed parts of it are far, far removed from the hustle, bustle and stresses of the 21st century.
Cornwall - or Kernow, to give it its Celtic name - is without doubt a region of ancient mystery, where prehistoric stone circles, enchanted pools, abandoned ruins and sea-sprayed cliff tops come together to form one of the last bastions of Celtic England.
THE LAND OF KING ARTHUR
But Cornwall is also associated with the conception and the last moments in the life of one of Britain's most legendary king's - Arthur.
Not only was King Arthur reputedly conceived within the sea-sprayed ramparts of Tintagel Castle, but it was across the bleak sedges of Bodmin Moor that Sir Bedivere is said to have carried the dying King to reach the reed-strewn banks of Dozmary Pool, across the dark,rippling waters of which Arthur set sail into the realm of legend.
As the writer and journalist Arthur Mee (1875-1943) put it "In the evening when the sun is sinking into the Atlantic from something like a flaming battle field we can think it is true about Arthur and his knights. A deep sense of something mysterious comes upon us."
HAUNTED CORNWALL - MAGIC AND MYSTERY
Arthur aside, however, Cornwall's landscape is imbued with such a rich seam of magic and mystery that those who come to seek its enchantments come back time and time again.
It is a landscape where Bleak moors squat menacingly alongside ancient churches. Where melancholic castle ruins look proudly back on past glories, resigned to their dotage of decay and neglect.
It is a landscape where the stark forms of mysterious stone circles huddle closely together, jealously guarding their ancient secrets. It is a landscape where timeworn Celtic crosses lean wearily against bleak and unforgiving terrain, their stark outlines often enveloped in thick mists that lend them an eerie, almost sinister air.
SUBTERRANEAN HAUNTINGS
However, haunted Cornwall's ghosts and spectres are not confined to these old ruins and ancient relics. Indeed many Cornish hauntings take place deep beneath the bleak sedges and wind-rattled grasses of its moors and sea cliffs.
For centuries Cornwall's most precious resource was tin, and several of Cornwall's haunted locations are situated in the abandoned tin mines that littler the landscape, their skeletal buildings looming eerily against the scudding clouds and from which the ghosts of long-dead miners seem loathe to depart.
A major superstition amongst those long ago miners was an implicit belief in the existence of the Knockers. These were mysterious, supernatural creatures who could wreak havoc on the dangerous working environment in which the miners worked.
PASTIES AND POLTERGEISTS
The Knockers are an integral part of Cornish folklore. They would hide, steal, or simply move the personal property of the miners. They could often be heard hammering away deep within the mines (hence their name). Worse still, if suitably antagonised, these malicious creatures might even cause a mine to collapse.
All manner of superstations grew up around the Knockers, and many different methods were used to placate them.
One such method involved the ubiquitous Cornish Pastie, that staple of many a pub lunch and hurried roadside snack, the origins of which are rooted firmly in Cornwall's tin mining heritage.
The Cornish Pastie was developed to provide the miners with a hearty midday meal during their gruelling shifts spent working so deep beneath the ground that ascending for lunch was, quite simply, not an option.
It was quite common for miners to leave a piece of the crust of their meal in a dark corner of the mine as a peace offering to the dreaded Knockers in the hope that it would persuade them to spare the one who had left the offering from any malicious activity.
MYTHS, FABLES AND LEGENDS
In addition to its Arthurian legends and haunted buildings Cornwall is also imbued with the magic of myth and fable with tales of Jack the Giant Killer and Tristan and Iseult woven into the very fabric of its highways and byways.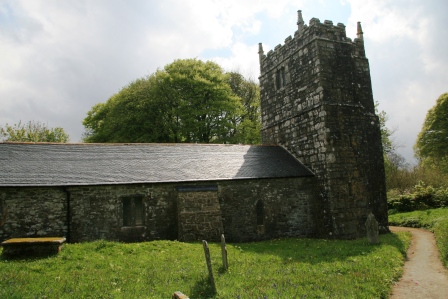 Tales of menacing mermaids and mysterious creatures of evil intent abound.
Stories of demon hounds and saintly men of God are everywhere.
Add to all this the tangible remains of nearly 5,000 years of history and you really do have a rich seam of lore and legend that can arouse feelings of awe and wonder in even the most jaded 21st century city dweller.
All in all the haunted and mystical places of Cornwall offer some truly magnificent places in which to hunt for ghosts and root out ancient mysteries.
Yet it also has a special magic that will keep you returning time and time again both physically and spiritually.