IRISH HAUNTINGS
NORTHERN IRELAND
Lissan House
Nr Cookstown, County Tyrone. Northern Ireland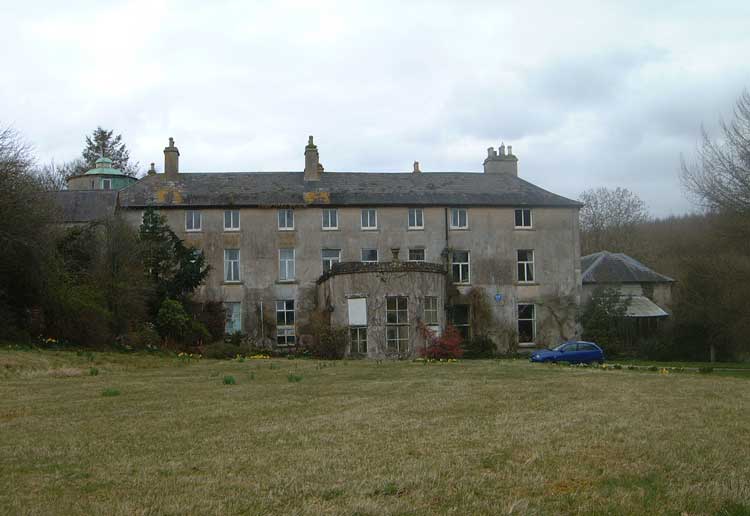 Lissan House exudes a world-weary air of resigned detachment.
It is encircled by a luscious variety of towering trees, and stands on the sleepy banks of a babbling river.
Lissan House has evidently known better days, yet it manages to wear its past proudly and stands as a vivid testimony to the Staples family, to successive generations of whom this lovely and spiritual old house has been home for some four hundred years.
A blue plaque on the outside of the house commemorates the artist Sir Robert Ponsonby Staples (1853-1943), many of whose paintings can be seen inside the hall.
Wherever he went, the tools of his trade went with him and he was always sketching the people and events that he came across.
These little moments of frozen time, captured by his pencil, provide delightful studies of the early Edwardian era.
One of his most cherished beliefs was that the ills of modern life were caused by peoples persistence in covering their feet with leather, thus preventing them from absorbing the earth's magnetism. Sir Robert, therefore, insisted on walking about without socks or shoes - an eccentricity that earned him the nickname "The Barefoot Baronet."
It is inevitable that family members who were so spirited in life, should in death have left indelible traces upon the fabric of the old house.
People see and hear things all the time, although as Hazel Radclyffe Dolling - the hall's current owner - points out, this is only to be expected in a house of such antiquity.
There are cold spots where the psychically inclined sense a definite "presence."
The heavy footsteps of an invisible man have been heard plodding their way through the house at night. The fragrant aroma of rose petals and lavender has been known hang in the air.
Then there is the crying child whose heart-rending sobs have been heard by several people. On one occasion a guest walked up to the first floor landing and found a group of children playing a game. She called out to them but they just ignored her. Next moment they had skipped off down the hall and disappeared.
At the time there were most certainly no children present anywhere in the house.
Ballygally Castle Hotel
Ballygally Larne, County Antrim, Northern Ireland
Part 17th-century castle, part modern hotel, Ballygally Castle is surrounded by brooding hills and gazes out over the grey waters of the Irish Sea.
A winding staircase twists its way up the inner wall of the castle to the sparsely furnished 'ghost room'.
It has a melancholic air, complemented by the portrait of a sad-looking lady that gazes down from one of the room's whitewashed walls.
Her name was Lady Isabella Shaw, and hers is the revenant that roams this imposing fortress.
Tradition holds that her husband longed for a son, but when his wife gave birth to a daughter his anger knew no bounds.
He imprisoned them both in this, the highest room of the castle, and left them to starve.
Heartbroken by the cruelty of her spouse, the distraught lady took her baby in her arms, opened the window and leapt to her death.
Lady Isabella's ghost is now said to walk a time-worn path around the sturdy bastion and has a particular fondness for knocking loudly on guests' doors. Yet when they answer there is never anyone there.
Annoying as this spectral prank might be, it pales in comparison to the more disturbing phenomena that occurs in the vicinity of the ghost room.
Several people ascending the old staircase have heard the sounds of a baby sobbing. As they hurry to comfort the anguished infant, its bawling grows louder and becomes more distraught. But when they reach the apparent source of the noise, and push open the door of the ghost room, the cries suddenly cease and they find that the room is empty.
Springhill
Nr. Moneymore, County Londonderry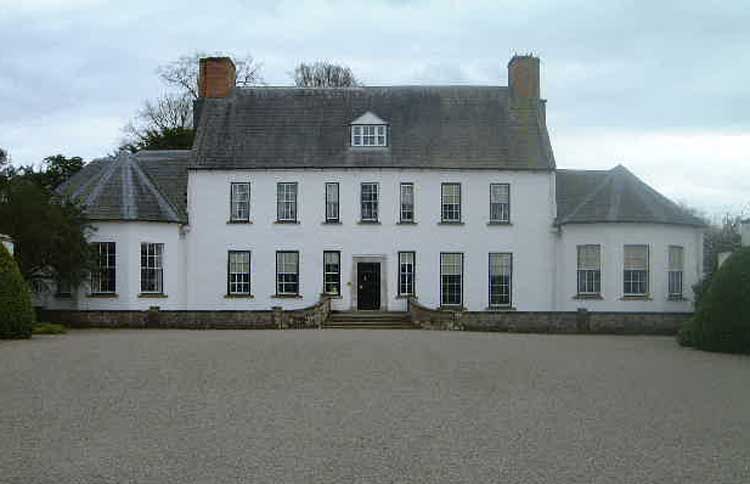 On every count Springhill is a truly attractive house. Its brilliant white walls, dark, narrow windows and grey slate roof, capped by chimney stacks of dull red brick, blend harmoniously into the sylvan landscape that surrounds it, and no-one who ventures here can help but fall beneath its spell. Its interior has a lived in and welcoming feel, and you can just sense that little has changed in a centuries.
Indeed those to whom this place was once home would have little trouble recognising it today, no matter which period of its three hundred year history they happen to have stepped out of.
Although the exact date of its construction is uncertain, its origins go back to1680 when 'Good- Will' Conyngham married sixteen-year-old Ann Upton. Her father – anxious to ensure that she and any offspring should be kept in the manner to which he thought they should become accustomed - drew up a marriage contract requiring Good Will to build 'a convenient dwelling house of lime and stone, two stories high with the necessary office houses, gardens and orchards.'
Rising to the challenge, Will erected a handsome tall-roofed house which was added to and lived in by ten subsequent generations of his family, until in 1957 Captain William Lenox – Conyngham bequeathed Springhill and its contents to the National Trust.
Today visitors to the house can admire its period furnishings and the renowned oak staircase, whilst enjoying the eerie sensation of having their every footstep watched by long dead members of the family whose portraits gaze down from the walls.
Without doubt Springhill's spookiest section is the blue-room. The moment you step into it the temperature drops alarmingly and it remains cold throughout all the time you spend there – a fact that the guides who lead the tours put down to the "presence," which is known to haunt the room.
In 1814 George Lenox-Conyngham, a man prone to bouts of melancholy, was away on his duties in the army when he received news that his children had gone down with smallpox. Out of his mind with worry he awaited news of their conditions, and when none came he abandoned his post early one night and headed for Springhill.
On the way he met his commanding officer Robert Stewart, but since they were good friends, and given that he had similarly covered for Stewart on other occasions, he felt sure that he would understand the urgency and necessity of his quest.
Stewart raised no objections and Lenox-Conyngham made it back to Springhill where he found that his wife, Olivia, had nursed all the children back to health. His relief though was soon tempered by the news that he was to be court marshalled for abandoning his post. His so-called friend had betrayed him.
This, coupled with the sudden death shortly thereafter of one of his daughters brought on a fit depression that lasted two years.
Then, one night, he went downstairs to the gunroom, took a pistol from the wall, returned to the blue room, sat on the bed and shot himself. Olivia, realising what he was about to do, rushed to prevent his suicide but had just reached the bedroom door when she heard the pistol fire.
Later Olivia would write in the family bible "George Lenox-Conyngham being in a very melancholy state of mind for many months prior, put an end to his existence by a pistol shot. He lingered from the 20th Nov.1816 to the 22nd, and died, thanks to almighty God, a truly penitent Christian…"
Olivia's ghost is still said to repeat the desperate dash to prevent her husband's death and has been seen on several occasions standing at the door of the blue room, her hands raised in horror.
She was seen in the latter part of the 19th century by a houseguest named Miss Wilson, who had sat up late one night chatting with the daughter of the house, Milly Conyngham.
When Milly finally retired to bed Miss Wilson noticed that she had left her diary behind. Leaving the room to return it, she was startled by the sudden appearance of a tall woman at the top of the stairs.
The apparition moved to the door of a bedroom, proceeded to raise her arms, apparently in despair, and then slowly faded away.
Years later another guest of the house – a Miss Hamilton – had gone to bed one night in the blue room when, just as she was starting to fall asleep, the room appeared to fill with agitated servants who were "pushing and wrangling in whispers." As she lay there terrified she heard a clicking noise from the wall behind her bed and turning, saw a door open and a light shine from it. She later recalled how "someone seemed to come out through this light and stilled the commotion, so that all fear left me, and after a while I fell asleep."
On waking the next morning she was startled to find that no door existed anywhere behind her bed. However, when she reported her experience to Charlotte Lenox-Conyngham, she was told that there was a door behind the bed but that it had been long since been papered over!
Interestingly, years later the blue room's wallpaper was stripped off and the secret door uncovered. It opened into a powder closet, on the floor of which lay an ancient pair of gloves and small pouch containing bullets.
In the early years of the 20th century the last generation of Lenox-Conyngham children to live at the house were sleeping one night when their nursemaid suddenly awoke to find Olivia's phantom standing over her charges gazing intently at them, as though checking the well-being of each one of them in turn. The nursemaid felt no fear at all. Indeed she was moved by the concern that the apparition appeared to show towards the children. Within a few moments, evidently satisfied that all was well, the ghost simply faded away and was gone.
Springhill is a lovely and atmospheric place and the custodians are at pains to point out that there is nothing malevolent about its otherworldly residents.
It is a genuinely tranquil and fascinating place to visit, and should the ghost choose to honour you with an appearance you can leave this tranquil slice of old Ireland knowing that you have been welcomed to the house by its oldest and most illustrious resident.
Grace Neill's
Donaghadee, County Down
This is a wonderfully atmospheric old pub and and its front bar in particular makes a visit here well worthwhile.
Grace Neill's claims the distinction of being the oldest pub in Ireland. It first opened its doors for business in 1611 and was originally called The King's Arms.
When the poet John Keats visited Donaghadee on a 'beautiful sunny day' he was most impressed with how "charming and clean" the town was.
The inhabitants, on the other hand, struck him as a 'rough and savage' bunch, especially the regulars at The King's Arms, where he was "treated to ridicule, scorn and violent abuse by the local people [who] objected to my mode of dress and thought I was some strange foreigner", which, given that he was from England, was probably a fair supposition!
Grace Neill ran the inn for much of the 19th and early 20th centuries. She was a characterful lady who kept a commodious establishment and liked to keep a watchful eye on proceedings whilst enjoying an indulgent puff on her clay pipe.
Quite what Keats would have made of her custom of greeting strangers to her inn with a welcoming kiss is anybody's guess!
Although Grace died in 1916, her guiding spirit has remained behind to ensure that the hostelry that now bears her name continues to operate with the smooth efficiency her clients had come to expect. Several portraits of her gaze down from the walls, and the dark, cosy front bar, with its delightful little snuggery - said to have been constructed from old ship's timbers - can have changed little since her tenure.
It is here, away from the much larger and newer back rooms, where the pub's ghostly activity occurs. Members of staff have looked on in astonishment as an unseen hand has moved glasses and books around. Lights get switched on and off.
Slow, ponderous footsteps have been heard crossing the upstairs floors, chilling the blood of many a tippler in the bar below.
Occasionally there are reported sightings of a Victorian lady, described as being "contained within a puff of steam," flitting about the darker recesses of the premises, and people have felt an invisible presence "pass through them" in the vicinity of the pub's staircase.But the management are at pains to point out that customers have nothing to fear from Grace, and describe her as a friendly and welcome wraith.
And, since the list of past customers is as diverse as Peter the Great of Russia, the composer Franz Liszt, former Beirut hostage Brian Keenan and pop diva Tina Turner, it's comforting to know that Grace's guiding spirit is still around to ensure that the staff adhere to the standards of hospitality she insisted upon - although a welcoming kiss (unless the circumstances are exceptional!) is no longer on offer.
The pictures of Grace Neills have been used with the kind permission of Mr Neill Savage Managing Director of Grace Neills, whose copyright they remain.
Beltany Stone Circle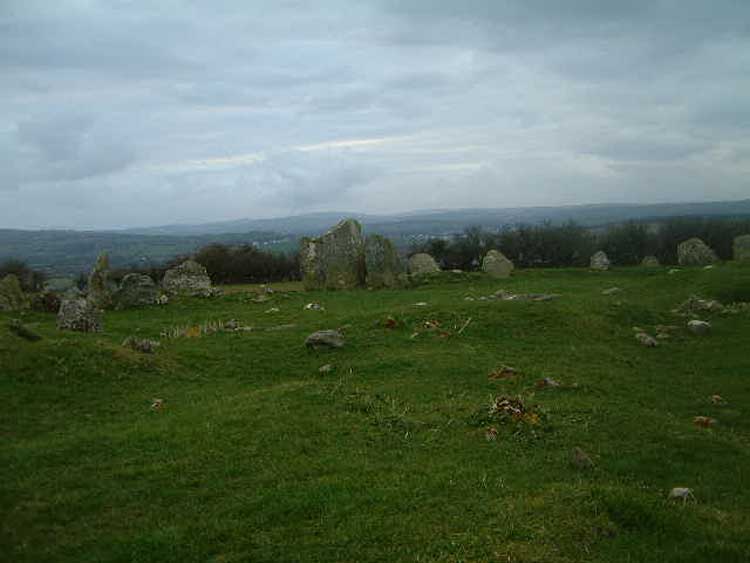 A muddy climb along a rough path brings you to the exposed summit of Tops Hill where stands the truly enchanting stone circle of Beltany, a name derived from 'Baal Tinne,' the Fire of Baal, which suggests that the pagan practice of sun worship was once carried out at this lovely spot.
The circle - comprising of sixty four stones but originally far larger - is sometimes referred to as "the Stonehenge of Donegal," although archaeology dates it to around 2,000BC, making it a good two hundred years older than Stonehenge.
Of course, the passage of time has obliterated any remnants the paint or clay with which those long ago worshippers may have decorated the stones and their surroundings.
Lost also are the words that would have been uttered along with any trace of the rituals that were practices here.
There can be little doubt, however, that people came here to venerate the deity Baal, the great Sun God and ruler of nature. These celebrations were always carried out on a hilltop so as to ensure a view of the rising sun at the exact moment that it began its climb into the firmament. Tradition holds that the principle ceremonies were held on June 21st, on which day the lawgivers lit sacred fires at the centre of the circle that symbolised the sun, whilst the surrounding stones depicted the stars.
This is a truly mystical location, and a genuine aura of magic and mystery pervades the whole site.
Indeed as you begin the trudge back down the hillside you are left with the overwhelming sensation that your visit had re-energised you and instilled in you that sense of awe and wonder that people must have felt when they came here to worship at the dawn of time.
Carrickfergus Castle
Carrickfergus, County Antrim
Carrickfergus Castle sits atop a jagged knoll and is an imposing fortress whose origins stretch back to 1185, when Anglo-Norman adventurers were riding roughshod over the country, carving out large chunks of land on which to establish family estates and dynastic fortunes.
One such buccaneer was John de Courcy, a Norman Lord who had heard a prophecy that Ulster would one day be conquered by a white knight from a foreign land, riding a white horse, with birds of prey upon his shield.
Since he was fair- haired, de Courcy became convinced that he was the knight of whom the legend spoke and thus, mounted upon a white warhorse and bearing a shield emblazoned with heraldic birds, he led a small band of well-armed soldiers into Ulster and began a campaign of bloody conquest that lasted for over a quarter of a century.
Each victory was consolidated with a Castle, such as the one at Carrickfergus, which now has the distinction of being the oldest intact stone castle in Ireland.
In 1210 the castle was taken over by King John who made it an administrative centre for English government, in which capacity it served for the next seven centuries.
There is a deep, dark well in the castle, around which the ghostly apparition of a soldier is said to appear.
A tragic tale of love and betrayal, culminating in monumental miscarriage of justice is said to lie behind the haunting. Robert Rainey, a soldier stationed at Carrickfergus Castle around the 1760's, was a man with a wild reputation. But, when met and fell in love with a local girl named Betsy Baird, he vowed to forsake his wayward ways if she would marry him. He was overjoyed when she consented.
But, unbeknown to Rainey, Betsy was also involved with the brother of his commanding officer, a Colonel Jennings.
How Rainey discovered his fiancés infidelity is unknown. But when he did, his reaction was one of uncontrollable fury and, when he encountered his rival on the road outside, he ran him through with his sword.
Calmly sheathing his weapon, he returned to his quarters, washed away the incriminating bloodstains, and retired to bed.
Stationed at the castle was another soldier called Timothy Lavery who bore an uncanny resemblance to Robert Rainey. Before Jennings died he was able to tell his brother what had happened, although he insisted that Lavery had been his assailant.
The unfortunate Lavery was charged with murder and, despite his protestations of innocence, was found guilty and sentenced to death.
As the noose was placed around his neck he summoned up every last ounce of energy and vowed to haunt the castle ever more.
Although Rainey confessed the truth many years later, Timothy Lavery's indignant spectre was singularly unimpressed and continues hover around the old well, which some call "Buttoncaps Well" in his honour.
This was his nickname in life, earned as a result of his always wearing a large button at the centre of his cap.
Dunluce Castle
Nr. Portrush, County Antrim
Protected by sheer cliffs and sprawled across a sea-sprayed dais, the gaunt shell of Dunluce Castle is a reminder of wilder, more virulent times, and few castles can boast an aspect that is more awesome or dramatic.
Its soaring ramparts and shattered turrets, punctured by the eyeless slits of hollow windows, look down upon pebbled pathways that snake their way into roofless rooms behind whose lichen covered walls, thousands of memories must be sealed.
The first castle to be erected on the site was built by the MacQuillans in the 14th century and it is possible that the outer walls with the two round towers date from their tenure.
The ghostly white lady, whose nebulous shade wanders the North East Tower, is believed to have been a daughter of the family whose father forbade her to marry the man she loved, causing her to pine away here and die of a broken heart.
In the 16th century the castle came into the possession of the MacDonnells, and it is with their occupancy that its history is most indelibly linked.
Sorley Boy MacDonnell (1505-1589), inherited the families Irish estates in 1556. He was taken prisoner by his brother-in-law, Shane O'Neill, at the battle of Glentaisie in 1565 and held captive for two years, before his kinsmen set him free, having murdered Shane during a banquet called to negotiate a truce between the two families.
In 1584, Queen Elizabeth 1st's Lord Deputy of Ireland, Sir John Perrot, brought an army to Dunluce and battered the garrison into submission with a relentless bombardment of cannon fire. Having evicted Sorley Boy, he installed Peter Carey as constable of the castle.
Queen Elizabeth, however, was furious at the unnecessary expedition and, in 1586, granted the castle back to Sorely Boy who celebrated his arrival by hanging the unfortunate Carey from the ramparts of the South East Tower. Spurredon, no doubt, by the indignity of his demise – his ghostly figure, clad in a purple cloak and sporting a ponytail, has wandered the tower ever since.
In 1635 Sorley Boys grandson, Randall, married Catherine Manners, the widow of the Duke of Buckingham, and brought her to live at Dunluce. This elegant lady was used to the cosseted life of London society and she found her new home something of an ordeal. She hated the place, and the constant boom of the sea drove her to distraction.
One stormy night in 1639, as the family sat down to dinner, her worst fears were realised when the north wall of the Kitchen Court collapsed into the sea, taking several servants to a watery grave. She point blank refused to live on the rock again and persuaded her husband to build a new house on the mainland.
Although the castle remained habitable and usable for the remainder of the 17th century, the fact that it ceased to be the main residence of the MacDonnells effectively sounded its death knell.
The relentless assault of the elements gradually reduced it to the ruin that it is today and no visitor can fail to be impressed by its mysterious ambience and dramatic location.
And, even though the castle has now settled into a docile old age, past residents still make occasional forays from beyond the grave to remind us of its stormy and eventful past.
Several people have reported feeling a cold chill on entering the South-East Tower, as if some unseen presence has pushed past them.
Staff arriving at the castle's shop in the morning, sometimes find that books have been lifted from the shelves and placed neatly on the floor overnight, or radios that were definitely switched off the previous day, have been mysteriously switched back on.
Whoever the spirits that now walk the ethereal plain of Dunluce Castle may have been in life, their activities are seldom malicious and rarely inspire fear.
Indeed, those who encounter them are more than happy to let them continue about their ghostly business, just as they have done and, no doubt, will do for as long as these ancient walls shall stand.
Dobbin's Inn Hotel
Carrickfergus, County Antrim
Around AD1200 Reginald D' Aubin was granted a parcel of land in the shadow of the newly completed Carrickfergus Castle. He set about building a tower house, which remained in the possession of his descendents for several hundred years.
By the 15th century the family name had been changed to Dobyn and successive generations became important local dignitaries, several holding high civic office.
In the reign of King James I, during the Plantation of Ulster, their house became a shelter for Catholic priests who would celebrate secret masses on the premises, and a "priest's jole", dating from those troubled times, is still visible in the hotel's reception.
It was during this period that the inn acquired its resident ghost, when Elizabeth, wife of the owner, Hugh Dobbins, fell in love with a handsome soldier, stationed at the castle opposite.
At night she would creep through a secret tunnel (the entrance to which is still evident at the back of the huge stone fireplace in the hotel's reception) in order to enjoy romantic trysts with her soldier love, remembered simply as "Buttoncap."
But her husband discovered their affair and, according to contemporary accounts, 'did put them to death with his sword'.
Whether or not the husband was punished is not recorded, but Elizabeth's ghost has wandered the building ever since.
In 1946 the old property was converted into a hotel and the spirit of Elizabeth - or Maude, as she for some reason became known - lingered on as its oldest resident.
Several guests have been wakened from their slumbers by the light touch of a ghostly hand caressing their faces.
Others have caught glimpses of a furtive figure flitting across reception and disappearing close to the stone fireplace.
A waiter, working in the restaurant one night, was struck on the back of the leg by a coin, but when he turned to remonstrate with whoever had thrown it, he found that the room was empty.
Republic Of Ireland
Charleville Forest Castle
Nr. Tullamore, County Offally
A sense of genuine antiquity prevails over the sylvan landscape that cradles Ireland's most enigmatic and impressive Gothic revival castles in a protective embrace.
It is approached via a long and pitted drive that meanders through sinister tunnels of massive oaks whose crook-necked shadows dance before you, their writhing forms beckoning you onwards.
Then, as your nebulous escorts fall suddenly away, you find yourself confronted by an awesome vision of breathtaking splendour as unyielding walls, punctured by mullioned windows and crowned by towering turrets, loom gracefully over you.
Built between 1798 and 1812 by Charles William Bury (1764-1835), the first Earl of Charleville, and designed by Francis Johnston, Charleville Forest Castle is a proud testimony to Johnston's vision and the sheer extravagance - unhindered by the constraints of their purse strings - with which successive generations of the Charleville family enthusiastically embraced life.
Every so often, the pressure of living beyond their means would necessitate the temporary closure of the castle, although subsequent re-openings would often be marked by a suitably flamboyant gesture, such as engaging the talents of William Morris, much of whose exquisite dining room ceiling work, amazingly, still survives.
But the family's inability to curb their excesses sounded the castle's death knell, and periods of occupancy became more intermittent until, by the early 1960's, it had been all but abandoned.
It is now owned by Bridget Vance – a charismatic American - who is slowly rousing the castle from its slumber and, with the aid of local craftsmen, restoring its echoing rooms to their past grandeur.
But, as her family go about their task, the spirits of bygone residents have begun to stir, and an abundance of ghosts now wander the what has recently been dubbed "Ireland's spookiest castle."
The silence of the early hours is sometimes shattered by the playful whoops of children, enjoying a phantom game in what was once the nursery.
It may be these same children who were responsible for once locking Bridget's daughter, Kate, in a dark cupboard in their playroom.
Older revenants appear to have been to blame for disturbing Richard Hayes who, following a party at the castle, placed his bedroll on the floor and settled down to sleep. Next morning, the children asked Bridget why he had slept with the door open and the lights on? He told her that, just as he was nodding off, two elderly English Men - who, from the style of their speech, were evidently of another era – had struck up an animated conversation, interspersed with the downing of copious amounts of alcohol and, although he could hear them close-by, he could not see them!
I too experienced an unexplainable occurrence when I visited the castle. I was talking with Kate Vance, who asked me if I had ever seen a ghost. Just as I began to answer, the huge chandelier above our heads suddenly switched on and, at the same moment, a radio in the room next door – which was definitely empty at the time – began blaring out classical music.
The wraiths of both Charles William Bury and Francis Johnston have also been seen here.
One morning, at around 3am, Bonnie Vance, awoke to find them leading a ghostly cavalcade across her bedroom in the tower. It consisted of a woman in a black hood, a little girl and a group of around seventeen "monks or druids" who encircled her bed and appeared to bestow a blessing upon her.
But the most poignant of all the spectres that walk this most haunting and atmospheric of castles, is that of the little girl in a blue chiffon dress, whose shimmering shade has been seen many times on the great, winding staircase, the faded walls and creaking boards of which are imbued with a decidedly chilling aura.
Her name in life was Harriet, and one day she was sent upstairs to wash her hands. Having done so, she was playfully sliding down the balustrade when she suddenly lost her balance and plunged to her death on the floor below.
Many people, walking down the staircase where the tragedy occurred, have frequently felt the cold draught of her invisible presence as she brushes past them, whilst others have seen her phantom form, skipping playfully in front of them.
The ghost of a small boy occasionally joins her and once, when he was around three years old, Bridget's son went missing. Fearful of the steep stairs and precarious drops around the property, the family began an anxious search. They eventually found him at the bottom of the stairwell where he told how "the little boy and girl" had looked after him as he came down the stairs.
Charleville Forest Castle is a special place and, despite the abundance of ghosts that roam its corridors; you leave it with a sense of sheer wonder. It is a welcoming place whose spectral residents are, on the whole, friendly.
But, as you make your way back along the driveway, you come upon an ancient reminder of the castles more sinister past.
Towering over you, its lower branches almost touching the road, is the prodigious "King Oak" the massive girth of which testifies to its venerable age.
Yet its majestic splendour is tinged with a fearsome reputation, for it was always maintained that, whenever one of its branches fell, a member of the Charleville family would die.
In May 1963, a huge bolt of lightning smashed into it and shattered its trunk from top to bottom. Although the oak survived, relief was muted when, two weeks later, Colonel Charles Howard-Bury, the head of the family and the last of the line to own the castle, suddenly dropped dead.
Kinnitty Castle
Kinnitty, County Offaly
Nestling amidst the foothills of the Slieve Bloom Mountains, the gothic revival Kinnitty Castle has had a long and turbulent history.
The first stronghold built on the site, was destroyed in 1209 and rebuilt by the Norman's in 1213. In time it came into the possession of the powerful O'Carrolls of Ely.
In 1630 one of their line, William O'Carroll, built a new fortress, which was confiscated by the English.
In 1664 the estate was granted to Colonel Thomas Winter, as a reward for his military service and, two hundred years later, his descendents sold it to the Bernard family.
In 1811 Lady Catherine Hutchinson, wife of Thomas Bernard commissioned the present castle which, although burnt by the Republican's in 1922, was restored and has since been transformed into the magnificent, extremely cosy, hotel whose, dark, atmospheric corridors; elegant rooms; library bar resplendent with rows of antique books upon its shelves; and sweeping stairways, provide visitors with tranquil haven far removed from the stresses and strains of the modern world.
Still in existence in the extensive grounds are the remains an Augustinian Abbey, and an ancient Celtic High Cross, carved with depictions of the presentation in the Temple and the crucifixion, together with Adam and Eve and intertwining birds.
It would also appear that one of the long-dead monks from the old foundation finds the ambience of the castle more than congenial, choosing to wander the darker recesses of the banqueting room where delights in revealing future events, linked with the everyday business of the hotel, to one particular member of staff who often astonishes the owner with the accuracy of the prophecies!
Leap Castle
Nr. Birr, Co. Offally
The Most Haunted Castle In Ireland
In May 2002 Sean Ryan, a world-class musician, and along with his wife Anne, owner of Leap Castle, found a ghostly old man sitting in a chair by a downstairs fireplace. Having bade his phantom guest "good day," Sean continued about his business. After all, a new ghost dropping by unannounced, is just part of life's rich tapestry, when you happen to live in what has long been considered Ireland's most haunted castle.
Standing upon a vast throne of solid rock, Leap Castle was once the stronghold of the warlike O'Carrolls and its eventful history is mostly written in their blood.
In the 16th century, O'Carroll of the Leap held a lavish banquet at his family fortress and invited a rural branch of his own sept to partake of his hospitality.
No sooner had the unfortunate guests sat down to dinner, than he massacred everyone one of them. Inter-clan bloodshed was a common occurrence and members of the tribe, attended family get togethers or re-unions at their peril!
Following the death of Mulrooney O'Carroll in 1532, a bitter dispute over succession arose. As siblings battled each other for leadership of the clan, "one-eyed" Teige O'carroll is said to have slain his own brother, who was also a priest, as he celebrated Mass in "The Bloody Chapel."
However, the days of O'Carroll occupancy were drawing to a close, and they were about to lose possession in a suitably blood- thirsty manner.
A 17th century daughter of the clan fell in love with an English soldier named Captain Darby, who was being held prisoner in the castle dungeons. She smuggled food to him and eventually engineered his escape.
As they were making their way down the staircase, her brother suddenly confronted them, and the captain silenced him with a single sword thrust.
Since his lover then became the heiress to Leap Castle, it passed into the ownership of the captain's family when the two were later married.
The last of the family to own Leap Castle was Jonathan Charles Darby who arrived here on 16th July 1880.
In 1909, his wife Mildred wrote an article for the Occult Review describing how she had held several séances at the castle during which she had attracted the unwelcome attentions of an elemental – a primitive and malevolent force that attaches itself to a particular place. Mildred Darby described how she was "standing in the Gallery looking down at the main floor, when I felt somebody put a hand on my shoulder. The thing was the size of a sheep. Thin gaunt and shadowy… its eyes which seemed half decomposed in black cavities stared into mine. The horrible smell...gave me a deadly nausea. It was the smell of a decomposing corpse…"
Mildred's occult dabbling also appears to have awoken other malevolent forces within the walls of Leap Castle, and it was at this time that the its fearsome reputation became firmly established.
Following its destruction by fire in 1922, workmen who had commenced gutting the interior, discovered an oubliette - a small dungeon whose name, derived from the French oublier, meaning "forget," says it all – behind a wall of the bloody chapel. This sinister little room was crammed with the mortal remains of the unfortunate victims of Leap Castle's bloody and brutal past and three cartloads of human bones were eventually cleared away from this ghastly charnel house.
Over the next seventy years, it remained an empty shell, its fearsome reputation ensuring that the locals shunned it, particularly at night when all manner of ghostly activity was known to stir within its moss clad walls. From across the fields people would watch the window of the "Bloody Chapel" suddenly light up, as though hundreds of flickering candles were blazing within. Some, who dared walk amongst the ruins, experienced alarming encounters with a lustrous lady wearing a billowing red gown.
In 1972 the castle was purchased by an Australian of Irish decent who sold it to Sean and Anne Ryan in 1991 and Sean set about converting the ruin into a habitable family home.
Shortly afterwards, restoration was suddenly halted when the ladder he was working from was inexplicably pushed away from the wall forcing him to jump several stories and sustain a fractured knee.
No sooner had he resumed work, than another freak accident caused him to break an ankle. "We began to think that we weren't welcome here," Anne Ryan stoically observed.
Today though, the spirits have come to accept the latest inhabitants of the castle and appear contented to exist alongside Sean and Anne.
They may, occasionally, make nuisances of themselves but, on the whole, they are no longer malevolent.
The sound of traditional music now wafts beneath the rafters as Sean entertains guests and visitors both on tours and at storytelling nights.
And, should a stray sprite or forlorn phantom chose to make an appearance, they are more than welcome to pull up a chair and enjoy the atmosphere of the place that they have helped imbue with the reputation of being Ireland's most haunted castle.
McCarthy's
Fethard, County Tipperary
The medieval town of Fethard has a wide High Street, lined by fine old shops, gracious Georgian houses and, as with many an Irish town, a decent selection of watering holes.
Opposite its pretty church there stands a pub whose reputation has spread far beyond the town's boundaries, and whose status borders almost on the legendary.
Richard McCarthy established McCarthy's Hotel in the 1840s, and supplied the local community with spirits, linen, groceries, bread, glass and china. He also provided hackney carriage services, accommodation and livery and, when his clients had reached the end of their allotted span, was called upon to bury them in his role as local undertaker.
Although the business has been whittled down, it is still run by his descendents, and those who stray into the hotel's time-worn interior can still enjoy drinking and dining in the only place I know where the management advertises their business as "Publican, Restaurant, Undertaker!"
The pub has hardly changed since the day Dick McCarthy opened for business.
It has the lived-in look of a ragged old rou who has gambled and drunk his way to a raddled old age and is happy to have done so. It is the pub that time forgot, a deliciously eccentric establishment, the walls covered with yellowed newspapers and faded photographs. In some places paint peels from the walls; in others the walls peel from the paint!
A curiously ornate wood-burning stove dominates the pub's forward section. Its flue meanders upwards before curving over alarmingly close to the heads of customers seated at the bar.
Andrew Lloyd Webber, whose castle is situated nearby, is a regular, and it was over a boozy session at McCarthy's that he and Ben Elton conceived the idea for their musical The Beautiful Game.
During the 1970s three formidable old ladies - Beatty, Kitty and Nell - successfully steered McCarthy's away from the trend for modernization that was afflicting Irish pubs.
They stood out against change, and their lasting legacy is the timelessness with which McCarthy's is still imbued.
The 21st century can do what it likes, for here the clock will always tick slowly.
McCarthy's most abiding supernatural occurrence is a harbinger of doom. Whenever a member of the family is about to die a picture falls off the wall for no apparent reason, occasionally accompanied by three loud knocks on the front door.
Several other ghosts are known to frequent the atmospheric interior of the old pub, and customers have caught fleeting glimpses of wispy wraiths at all hours of day and night.
So if, as you sit in a dark corner supping your pint, you happen to spy someone sitting across from you, take a long hard look, and don't be surprised if they suddenly vanish!
Huntington Castle
Clonegal, County Carlow
Huntington Castle as it stands today, is a Jacobean gesture in architecture.
It was built in 1625 by the First Lord Esmonde, and replaced an earlier stronghold that had been built in the 15th century on the site of an ancient monastery.
Approached via a long avenue of majestic limes, it casts a long finger of shadow across its surroundings, and possesses a spellbinding quality.
Its interior of dark, creaking corridors and atmospheric rooms, crammed with an eclectic mix of tapestries, suits of armour, dusty old books, stuffed animals and family portraits, has a decided otherworldly feel, and it comes as little surprise to learn that this truly mysterious castle, which for over two hundred years has been home to the Durdin-Robertson family, is haunted.
Outside is the 600-year old Yew Walk, one of the few survivors from the days of the monastery. Its' curled and entwined branches form a long and mysterious tunnel that could so easily be a gateway into another time.
On several occasions monks manage to transcend the centuries, and their ghostly forms are seen walking up and down beneath the interlocking canopy.
Elsewhere in the gardens, the restless wraith of Ailish O'Flaherty, the first wife of Lord Esmonde is sometimes seen standing by the "Spy Bush," combing her long hair by moonlight and wailing in grief-stricken anguish. Her husband and son went off to the wars, and here she would stand, anxiously awaiting their return.
A spectral soldier has been known to knock on the castle door. He is thought to have lived in the 17th century, when Cromwell's forces were riding rough shod over the land. Having disguised himself in the uniform of the opposition, he set off to gather information about the enemy. But on his return, his comrades failed recognise him and shot him dead through the grille of the door where his ghostly face is now sometimes seen.
Crossing the threshold, a portrait of Barbara St. Lege (1748-1820) hangs on one of the walls inside. She married into family and was, apparently, so taken with Huntingdon Castle, that her spirit still walks the corridors, jangling her keys as she goes.
She is closely followed by her maidservant, Honor Byrne, pauses to polish door handles with her hair. Bishop Leslie of Limerick, who stayed at the castle when he retired in the 18th century, haunts the "Four Poster Room."
Several guests have woken in the dead of night to find his genial phantom standing at the foot of the bed.
A portrait of a Spanish flower girl gazes from the wall of the room and, from time to time, the Bishop's face has been known to replace hers.
Huntingdon Castle is a magical and timeless place that possesses a unique atmosphere. It is a tranquil time-capsule that is truly one of Irelands most historical and fascinating treasures.
Killakee House
Kathfarnham Co. Dublin
In 1968 Mrs Margaret O'Brien and her husband, Nicholas, purchased what was then a derelict building intending to turn it into an arts centre. Several workmen lived on the site during renovation, and they soon grew used to eerie sounds and uncanny happenings.
But, when a large feline appeared mysteriously before them and then suddenly vanished, the builders became decidedly uneasy and the legend of the black cat of Killakee was born.
Mrs O'Brien thought the stories nonsense to begin with, but then she too saw the creature and, as she put it, "began to understand the fear."
The first time she crossed its path; it was squatting on the flagstones of the hallway just glaring at her. Every door in the house was locked both before and after its sudden appearance and subsequent disappearance.
But it was the painter, Tom McAssey who had the most famous confrontation with the mysterious creature. In March 1968 he and two other men were working in a room of the house, when the temperature began to drop alarmingly. Suddenly the door swung wide open and a hazy figure appeared in the darkness. Thinking it was someone playing a joke he called out "come in, I can see you."
But all three men froze in terror when the reply was a low, angry growl. Moments later they fled the room slamming the door behind them. But, when Tom McAssey looked back, the door was wide open again, and a hideous black cat with blazing red eyes was snarling at him from the shadows of the room. "I thought my legs wouldn't take me away from the place," he later recalled, "I was really in a bad state."
Following this chilling encounter Margaret O'Brien had the building exorcised and things quietened down for a time.
But then, in October 1969, a group of actors staying at the arts centre decided to hold a séance for a joke and the disturbances began again. Furthermore they seemed to have raised the spirits of two nuns, who would appear before startled witnesses in the gallery of the centre.
A local medium, Sheila St. Clair, visited the property and claimed that the phantoms were the unhappy spirits of two women who had assisted at satanic rituals held during the meetings of the notorious Hell Fire Club in the 18th century.
Richard Parsons had founded an Irish branch of this club in 1735 and they are said to have held their sinister assemblies, in a hunting lodge, the ruins of which can still be seen on Montpelier Hill behind the centre.
Local legend tells how Richard "Burnchapel" Whaley, a member of one of the areas richest families, had joined the society and had revelled in the debauched rituals.
These are said to have included the burning alive of a black cat on at least one occasion; the worshipping of cats in place of Satan himself; the setting on fire of an unfortunate woman stuffed inside a barrel; and the ritual beating and murder of a poor deformed boy.
At a meeting of the club in 1740, a servant is said to have spilt a drink on Thomas Whaley, who was so enraged by the accident that he had the servant doused in brandy and set ablaze.
The subsequent fire burnt down the building and killed several members of the club.
In July 1970, a dwarfish skeleton was discovered buried beneath the kitchen floor of the building and in the grave with it was the brass statuette of a monstrous demon, which gave credence to at least one of the legends. A priest was called in to give the body a proper burial and thereafter the manifestations ceased.
St Michan's Church, Dublin
St Michan is said to have been a Danish Bishop who, in 1095, built a church above vaults that had been constructed upon the site of an ancient oak forest.
The church was rebuilt in the 18th century and contains, among other things, the death mask of the charismatic Irish patriot, Theobald Wolfe Tone (1763-1798), and the organ on which Handel is reputed to have practise his "Messiah" before the first performance in Dublin.
The philosopher Edmund Burke was christened here and the funeral of Home Rule leader Charles Stewart Parnell took place here.
But, in the dark vaults beneath the church, you will find one of the creepiest and most unique haunted locations in the whole of Ireland.
You enter this subterranean world via two heavy iron doors that open onto a steep flight of stone steps, down which you descend into eerie darkness.
The air, however, is strangely warm and fresh, not in the least like the cold and clammy atmosphere you would expect to find in such a place.
As your eyes grow accustomed to the dark, you notice a series of high-vaulted cells that lead from a central passage.
In several of the chambers, coffins are stacked in untidy piles as generations of the same family lie on top of one another. In places the weight of the dead pressing upon the dead has resulted in the coffins collapsing into each other causing arms, legs or even heads to protrude from their final resting places as if posing for some grotesque and macabre family portrait.
What is even more remarkable is, that despite the fact some of these people died 500 years ago, they have not crumbled into dust, but have been preserved, like mummies, their flesh the texture of tanned leather.
Even more bizarre, their joints are supple and actually move! The only living creatures in this underground world of twisting shadows are spiders. Their webs woven thick across walls or forming grim, grey veils that stretch from ceiling to floor.
In some places open coffins display occupants whose heads are either thrown back or lying to one side, their mouths open as though they have just fallen asleep and you find yourself expecting them to start snoring at any moment. The body of a man lies with one leg crossed over the other, the traditional posture denoting a crusader. Such is the state of preservation that you can actually stoop and examine the nails of someone who died 800 years ago. There was a time when you were even allowed to shake him by the hand, but such intimacy is now forbidden as a result of the frequent attempts to steal his fingers as souvenirs!
The remarkable preservation of the cadavers is thought to be the result of the air being chemically impregnated by the remains of the oak forest that stood on the site in ancient times.
As long as the vaults remain dry, decay ceases. Let only a little moisture enter and the bodies crumble into a fine dust. In 1853 the two brothers John and Henry Sheares, who had been beheaded in the 18th century were re-coffined and stood upright in a vault with their heads by their feet. The people of Dublin brought wreaths and, within a year, the moisture from the flowers had wrecked everything in that vault.
Not surprisingly, the tales of ghostly happenings pale in comparison to the gruesome reality of the crypt. But people exploring the macabre Charnel House, have heard strange disembodied voices, whispering around them and some have felt ice cold fingers run down their necks as they stoop to examine the permanent residents of this subterranean world of silent shadow.
Kilmainham Gaol, Dublin
The vast and eerie Kilmainham Gaol is Ireland's largest unoccupied prison. Its echoing corridors and poignant courtyards provide a vivid idea of what it would have been like to find yourself confined in one of these forbidding bastions between 1796, when it opened and 1924, when it closed.
As well as housing many common criminals it was also the place where the leaders of the 1916 uprising were detained. Many were also executed within its grim walls, and a plaque in the gaols courtyard remembers those patriotic men who bravely and defiantly faced the firing squads, in the cold early morning hours of May 1916.
The last to die was James Connolly who had to be tied into a chair in order that the execution could be carried out, as he was unable to stand on his own due to his terrible injuries.
With such an eventful and often gruesome history, it is inevitable that Kilmainham Gaol should have several ghosts.
The building had stood empty for many years before a dedicated band of volunteers set about its restoration in the early 1960's.
At the time, the governor's quarters were utilised as a home by Dan Mcgill and his family who acted as caretakers. Not in the least bit perturbed by the fact that his front windows looked out onto the place where the gallows had once stood, Dan carried out his duties with cool, level headed efficiency.
One evening he was preparing for bed, when he happened to glance from a side window and saw to his surprise that the chapel lights, which he had only just turned off, had been switched back on. He walked across to the chapel, switched them off and returned home where he once more prepared to retire. But on looking from the window he saw that the chapel lights were blazing again. He made the long walk to the chapel a total of three times in that one night.
During the restoration another man whom colleagues described as "very religious and tea total" was painting in the dungeon area of the prison, when a huge gust of wind suddenly blew him against a wall. Battling hard against the mysterious tempest, he managed to fight his way from the dungeon, where his ashen face and shaking hands were vivid testimony to his brush with the uncanny force. He point blank refused ever to work in, or even visit, the gaol again.
Another volunteer was decorating the "1916 Corridor" when he heard what he took to be a colleague's heavy footsteps, climbing the stone stairs and walking along the passage behind him. Turning to greet whoever it was, he was astonished to find no one else in the corridor, despite the fact that the plodding footsteps continued as though some invisible presence had just walked right past him.
Several children visiting the old gaol have paused terrified on the threshold refusing to go one step further, whilst one guide who was particularly susceptible to psychic sensations, claimed that there was an evil and fearsome aura around the balcony of the chapel.
Others, however, sense the gaol to be a tranquil place and speak fondly of how the eyes of the thousands of past inmates, watch them, apparently looking out for their well – being.
Perhaps the last words on the haunting of the gaol, should go to Dan McGill, who was always pointing out that no-one should ever fear the inmates, because they knew that the volunteers were only trying to tell their stories.
"But," he would say, "the soldiers and the guards? Now they're a different matter."
Malahide Castle
Malahide, County Dublin
Malahide is a stunningly picturesque, fortress that stands amidst a profusion of massive oaks, mighty chestnuts and towering sycamores nine miles to the north of Dublin.
Richard Talbot, who had been awarded the Lordship of Malahide by Henry 11, built the first castle on the site in about 1185.
Thereafter, despite regular sieges and constant warring aimed at displacing them, his descendents clung to possession for 791 years (a ten year eviction during the Cromwelian era excepting), until in 1975 the Hon. Rose Talbot was forced to sell her ancestral home to pay the exorbitant Death Duties occasioned by the sudden death of her brother Milo, the last Lord Talbot de Malahide, in 1973.
Purchased by the local authority, it was opened to the public and visitors can now experience the majestic ambience of a true time capsule, wherein ancient corridors and winding stairways lead into atmospheric old rooms, resplendent with period furnishings, family portraits and intriguing artefacts.
Having ascended the winding stone stairway from the reception, you step into the Oak Room, which sits at the heart of the medieval castle where above the fireplace is a 16th century Flemish carving depicting the Coronation of the Virgin.
One of the Castle's most abiding legends centres upon this exquisite work. In August 1649 Oliver Cromwell invaded Ireland with a force of some 12,000 soldiers.
The then owner of Malahide Castle, John Talbot, was unceremoniously evicted and Cromwell gave the fortress to Miles Corbet.
Tradition asserts that the moment he took possession the carving mysteriously disappeared and was not seen for ten years until, following the Restoration of Charles 11 in 1660, and the subsequent execution of Corbet, the Castle was restored to the Talbot family and the carving re-appeared upon the wall!
The Great Hall of the Castle, is one of the most important medieval rooms in Ireland and remains virtually unaltered since its construction in 1475.
On the 30th June 1690, fourteen members of the family are took breakfast here before setting off to fight in the next day's Battle of the Boyne at which every one of them was killed.
It is also the room to which Malahides' best attested ghost returns.
No one knows for certain who was but there is a tradition that he lived in the 15th century and, due to his slight stature, was unsuitable as a fighting man, so was employed instead as a watchman.
Unfortunately he was partial the odd tipple and one night, having imbibed a little too liberally, fell asleep at his post and an enemy stormed the Castle. Shamed by his neglect of duty, the remorseful sentry hanged himself from the Minstrel's Gallery.
But his spirit has remained here ever since and appears whenever changes happen of which he disapproves. The last sighting of him was in 1975 when the castles' fixtures and fittings were being auctioned. An auctioneer from London was busily compiling an inventory, when he looked up from his work and saw the unmistakable figure of Puck, standing by the tiny doorway, shaking his head in censure.
The Hill of Tara
Tara, County Meath
The hill of Tara is nothing special to look at. No crumbling ruin crowns its summit, and the surrounding countryside is anything but dramatic. Yet it is a magical place, steeped in mystery and legend and to journey the ragged paths which snake their way across its gentle slopes, is to walk in the footsteps of Kings and heroes.
Although legend accepts the Fir Bolg as the first invaders to make Tara a royal seat, it was the arrival of the mystical Tuatha De Dannan that made it a sacred and godly place.
They brought with them four divine gifts one of which, the Lia Fail, or Stone of Destiny, is said to be the weather beaten and decidedly phallic monument that today stands atop the grassy mound known as the Kings Seat. It was once Ireland's coronation stone, over which monarchs were crowned and which was said to emit a fearsome roar of recognition when touched by the rightful king of Tara.
It has stood here since the times when magnificent wooden palaces dominated the brow of the hill. Its memories are Ireland's memories of ancient glories and long ago kingships.
It remembers the feis, those great national assemblies that took place every three years at which laws were passed, tribal differences settled and the defence of the realm decided. It has witnessed the huge crowds that flocked here to enjoy great banquets whilst being entertained by athletes, combatants, poets, musicians, minstrels and jesters.
It warmed to the glow of firelight as storytellers gathered their audiences around them and, using nothing but the magic of language, spirited them away into the realm of the gods, where they held them spell bound with breathless tales of ancient conflicts and heroic conquests.
Tales of the mighty warrior, Lugh of the Long Hand, who came here to lead the mystical Tuatha De Danann into battle against their enemies the evil Fomorians.
A warrior such as he had never been seen in Ireland before, and so bright was the radiance of his countenance that, when he stood upon Tara's heights people thought the sun had risen in the west. He wore the Milky Way as a silver chain around his neck; had a rainbow for his sling and possessed a sword called "the Answerer" with which he could cleave through both walls and armour.
Before riding into battle at the head of a great host of warriors, he equipped himself with every magical weapon known to the world.
His forces inflicted a crushing defeat upon the Fomorians and banished them from Ireland forever, after which the De Danann returned to Tara and ruled for nine generations, until the arrival from Spain of the Milesians, ancestors of the modern Irish.
These were the sagas and unwritten histories with which the storytellers would regale their audiences in the halls of Tara. And of how, with the coming of the Milesians, the history of modern Ireland began. How at Kenmare Bay in County Kerry the two sides fought a battle during which the De Danann Queen, Eriu, was fatally wounded.
But before she died, she made the Milesian leader, Amorgen, promise that the island would bear her name forever and thus it became Eriu, Eire or Eireann.
As the epic tales approached their climax, the audiences would have listened with baited breath to the story of the final confrontation between the two forces on the plain of Teltown, to the north of Tara. Of how the invaders finally overwhelmed the Tuatha De Danann who, rather than become expatriates, used their magical powers to retreat into a mystical realm, leaving Ireland itself to their conquerors. Thereafter, they dwelt beyond the sidhes, those grassy mounds and barrows that speckle the landscape of Ireland to this day. They became, according to the storytellers, the Aes Sidhe, or "People of the Hills" - the fairies whose existence has become rooted in the Irish psyche and whose mysterious otherworld has provided a final refuge in times of trouble. Every god was a Fer-Sidhe, or "man of the hill" and every goddess a Bean-Sidhe, or "woman of the hill"- the banshee of popular Irish legend.
Ages went by, generations of Kings were crowned over the Stone of Destiny, living and dying at Tara.
Then, at some stage around AD430, Loegaire became the 116th King and it was during his reign that another God arrived on Tara's slopes as Christianity, in the robust form of St Patrick, challenged the pagan powers by lighting a Pascal fire on the nearby Hill of Slane. The Druid Priests warned Loegaire that, if he did not extinguish the fire immediately then it would burn in Ireland forever. But Loegaire ignored their warnings and St Patrick came to Tara where, plucking a shamrock from the hillside, he used its three leaves and single stem to teach Loegaire about the nature of the Trinity.
Thus it was that Christianity came to Ireland and the emblem of the nation was born. But it was this new faith that, ultimately, sounded Tara's death knell. According to legend King Diarmaid, who ascended the throne in AD558, arrested and executed the murderer of a tax collector who had taken sanctuary with St Ruadhan.
Incensed by the Diarmaid's actions, the Saint came to Tara and, ringing his sacred bell, pronounced the fateful incantation "Desolate be Tara for ever and ever."
Soon after the palace lay abandoned its buildings left to rot with only the stone of destiny standing silently by, a lone witness to the ending of its glories.
All is quiet here now. The heroes have departed. The ashes of the fires by whose glowing logs the storytellers once wove their magic have long since been raked into the hillside. The fairy folk have retreated ever further into their secret domain, driven from our consciousness by an invasion of modern technology and universal conformity that sees eccentricity where our ancestors saw enchantment.
But it is still possible in a quiet moment to stand upon Tara's heights and, with the breeze upon your face, imbue yourself with the spirit of the place. "If you go there" wrote the poet Francis Ledwidge from the mud-spattered trenches of Flanders, "look all around you and remember me to every hill and wood and ruin, for my heart is there.. Say I will come back again surely, and maybe you will hear pipes in the grass or a fairy horn – I have heard them often from Tara"
Lough Devereaugh
Nr. Ballinalack, County Westmeath
This is a tranquil place of ancient enchantment where rippling waters reflect tree lined hillsides that rise sleepily from the marshy banks.
Reids bend wearily against the faint breezes as though recoiling in shameful horror at the memory of a long ago act of unspeakable cruelty committed upon these very shores where one of Irelands most poignant legends was born.
It came to pass that the Tuatha De Nanaan met to elect a king, and duly settled upon Bodb Dearg, much to the anger of another contender, Lir, who returned to his palace angrily refusing to accept the new monarch.
The men of the Denanaans wished to wage war on Lir, but Bodb Dearg was anxious that his reign would be a peaceful one, and so dissuaded them.
As Lir's resentment festered, fate dealt him a tragic blow, for his beloved wife died from a mysterious illness, leaving him inconsolable at the loss.
When Bodb heard of this, he sought to make peace with his adversary, and offered him the hand of one of his three treasured stepdaughters in marriage. Lir, filled with remorse at the Kings generosity abandoned his ambitions, accepted Bodb's friendship, and chose Aobh, the eldest daughter, as his wife.
Theirs was a happy marriage, and Lirs' joy knew no bounds when his wife gave birth to twins, a daughter, Fionnuala, and a son whom named Aodh.
A few years later his wife became pregnant again and the once embittered warrior sent word to his great friend, Bodb informing him of the glad tidings.
But the shadow of grief fell once more upon the household when Aobh died giving birth to twin boys, whom the distraught widower named Fiachra and Conn.
When word of his foster daughters death reached Bodb Dearg, he was filled with grief at the loss and, consumed with pity for his son-in-law, he declared that "our friendship with one another will not be broken for I will give him for a wife her sister Aoife."
Lir was again moved by the Kings kindness and the two were duly married. His children provided great solace to Lir, whose heart was filled with "joy and delight at the beauty of their appearance."
But the love he showed for them caused resentment to burn within his wife, who hatched a plan to be rid of them forever. She feigned a sickness, that lasted for almost a year and, just as Lir had resigned himself to losing a third wife, she miraculously recovered.
Her husband was overjoyed and was much relieved when she said she wished to take the four children to visit Bodb.
Yoking her chariot, she sent for the children and told them to prepare for. But Fionnuala had been warned in a dream of her stepmothers' evil intentions and refused to go with her.
Lir, however, calmed his daughter's fears, persuading her that no harm would befall her and, reassured, the children boarded the chariot and set out on their ill-fated journey.
As they approached the tranquil shores of Lough Devereaugh, Aoife turned to her servants and ordered them to kill the children, promising them great riches if they would carry out her wishes.
But the horrified attendants refused, warning her that "it is a bad deed you have thought of, and harm will come to you out of it."
Aoife attempted to kill the children with her own sword but could not bring herself to carry out such a cold-blooded act. Instead she bade them refresh themselves in the Lough.
The unsuspecting children rushed gleefully into its cooling waters, but no sooner had their first playful splashes broken the surface, than Aoife raised a druidic wand and cast a terrible spell upon them. A sudden flash exploded from the glassy waters, as a fearsome roll of thunder shook the earth to its core. A swirling, thick mist enveloped the children whose terrified screams echoed around the surrounding hillsides.
Then all was still, and as the fog cleared, the Children of Lir found that they had been transformed into four beautiful swans.
As the realisation of their plight dawned upon them, Fionnuala turned to her stepmother and, in a quavering voice, demanded "evil witch what mischief did we commit that your love should turn totreachery?"
Then, as anger overcame her fear she warned "do not think that your deed will go unpunished for the fate awaiting you will be far worse than ours."
But Aoife was unmoved by the such a threat "away with you," she sneered, "for you will never be able to seek revenge on me and nor will your friends, for it is with flocks of birds that your cries will be heard forever."
It was then that the children begged her to "put some bounds now to the time when this enchantment will end."
"It is worse for you to of asked it of me," replied Aoife, "for no friends and no power that you have will bring you out of these shapes until you have been three hundred years on Lough Devereaugh and, thereafter, another three hundred years on the stormy Sea of Moyle and yet a further three hundred in the chilly climes of Irros Domann, on the Western Sea. Only when you hear the sound of a Christian bell will your release be imminent."
But then the evil stepmother relented and granted one concession to the charges she had betrayed. "You may keep your human voices," she told the Children "and I will make them the sweetest voices in the whole of Ireland, sweeter even than those of the Fairy people, and anyone who hears them will be lulled into a gentle sleep."
Then turning to leave she cried "but that is the extend of my mercy, now go for I have finished with you!"
So saying, she reined her horses and sped off to the palace of her foster-father, where she attempted to cover her treachery by informing him that the reason she had arrived alone, was that Lir mistrusted Bodb and was convinced that his children would be in danger if he allowed them to accompany her.
But the King was suspicious and sent messengers to Lir enquiring after the children's well being.
The arrival of Bodbs' envoys greatly alarmed Lir and he set out in his chariot to retrace his children's journey.
Passing the shores of Lough Deveraugh, he noticed four swans swimming towards him and marvelled at the sweetness of their song.
But then Finiannola spoke out, telling him who they were and what had happened. Realising that his children were now beyond help, Lir let out a howl of anguish and collapsed weeping to the ground.
That night, he and his attendants camped on the shores of the Lough and his children sang to him in tones so sweet, that they eased his sorrow and lulled him into a tranquil sleep.
The next morning he hurried to Bodbs palace and told the King what Aoife had done. The furious monarch summoned his evil stepdaughter and ordered his druids to turn her into the foulest and most hideous creature they could they could think of. The priests struck her with their wands, turning her into a demon of the air and dooming her to drift helplessly amidst the clouds till the end of time.
For the next three hundred years the children remained on the placid waters of Lough Deveraugh, and the people of Ireland helped ease the burden of their sentence by coming to visit them.
The second and third parts of the spell passed less comfortably, but finally nine hundred years had gone by and the swans flew ashore to return to their fathers' palace.
But they found it to be a desolate ruin - its ramparts broken, its walls covered by moss and the green lawns on which they had once played, swallowed by nettle and bramble.
Heartbroken they flew back to the Western Sea and settled on the island of Inis Glora.
Meanwhile, St Patrick brought Christianity to Ireland and, in his wake, came holy men one of whom, St Kennock, settled on the island where the swan-children dwelt.
One morning they were woken by the sound of his oratory bell and, following its chime they landed before the holy hermit who recognised them immediately and greeted them warmly. As he did so their feathers fell away and they became human once more.
But they were no longer children. Their bodies were stooped and wizened, their hair was white, their skin was wrinkled and it was obvious that they were dying.
They begged St Kennock to christen them and, no sooner had he done so, than they breathed their last. And, as the saint blessed them, he fancied he saw four radiant children, with silvery wings and tranquil expressions rise from their haggard bodies, encircle him for a moment and then swoop skywards to seek their place in heaven.
Renvyle House Hotel
Renvyle House sits in quiet seclusion amidst the wilds of Connemara, and is as far off the beaten track as you could ever hope t to get.
A long, low grey-stone building standing hard by the waters of the Atlantic, it was rebuilt in the 1930s following the destruction of the former property on the site by the IRA.
Never is its location so exposed, its impact so dramatic, as when a murderous gale comes howling across the ocean' s raging surface and hurls itself with demented fury at the walls and windows.
Then do the floors and low beams of its upstairs corridors creak wearily, as the dim lights cast long shadows into dark corners, from where you sense the eyes of former residents watching your every move.
These are the days to huddle close to the glowing turf fires, and speak in reverential whispers of the ghosts that roam the sea-sprayed house.
The current building opened on 26 April 1930 and was then owned by Dublin surgeon, poet and wit, Oliver St John Gogarty. He had purchased the original property in 1917, and unwittingly acquired several ghosts along with the deeds.
There was a north-facing upstairs room, with heavy bars across its windows, where no maidservant would dare sleep for fear of the "presence" that could be felt there.
One night the malevolent force moved a heavy linen chest across the door, barring outside access. Only when a workman had sawed through the bars could the family enter the room again.
One night Gogarty was sleeping in the west wing when he was woken by ponderous, limping footsteps approaching along the corridor. Lighting a candle, he went to investigate; but the moment he left his room the flame was extinguished and he found himself alone in the dark. Suddenly his limbs became very heavy, "as if I were exercising with rubber ropes," as he later put it. Fortunately, nothing further happened that night.
One of St John Gogarty' s closest friends was the poet W. B. Yeats. Whenever he and his wife, Georgia, came to stay the supernatural activity increased dramatically.
One night, as he sat with his companions in the oak-panelled library, the door suddenly creaked wide open. The other occupants were terrified, but Yeats raised his hand and shouted, "Leave it alone, it will go away, as it came," whereupon the invisible revenant obligingly slammed the door shut.
Evan Morgan (later Lord Tredgar) was less in command of the spirits. He had recently embraced Roman Catholicism and, on being told that a particular room was haunted, he attempted an exorcism.
No sooner had he lit three candles and began reciting some prayers than a thick mist filled the room and the unfortunate Morgan was thrown to the ground.
Having been dragged to safety by his friends, he revealed that he had seen the ghost of a pale-faced boy with large luminous eyes, dressed in brown, who was clasping his hands to his throat as if strangling himself. Morgan concluded that the boy had committed suicide in that room.
W. B. Yeats, meanwhile, held a séance in an attempt to contact the ghost. Using automatic writing the spirit indicated that it objected to the presence of strangers in the house. It informed Yeats that it would appear to his wife and reveal its identity.
Georgia Yeats was a well-known and talented medium and felt no compunction about entering the haunted room alone. As she stood by the fireside a "vapoury" mist appeared, which gradually assumed the form of a red-haired, pale-faced boy, aged around 14. "He had the solemn pallor of a tragedy beyond the endurance of a child," Mrs Yeats later told her husband.
She learnt that the ghostly boy was a member of the Blake family, the original owners of the house.
Shortly afterwards, with Gogarty away in England, his house fell victim to the Irish struggles and was burnt down by the IRA. "Memories, nothing left now but memories and ten tall square towers, chimneys, stand bare on Europe's extreme verge," lamented Gogarty.
The house was rebuilt and Gogarty ran it as a hotel until relinquishing ownership in the 1950s.
Today the house is wonderfully atmospheric and ghosts still roam the corridors. In the past guests have complained of sensing "someone" in their room, and several ladies have had disturbing encounters with a man, whose reflection they have seen looking over their shoulders as they made up their faces in the mirror.
Perhaps the last word on this mystery-steeped building should go to Oliver St John Gogarty. "The countryside was magical," he wrote, "it is as if, in the faery land of Connemara at the extreme end of Europe, the incongruous flowed together at last, and the sweet and the bitter blended."
Moore Hall
In 2002 I received a letter from an American Reader of my book Haunted Britain and Ireland telling me that if I was planning a follow up I might like to consider including Moore Hall in County Mayo, since he and his wife had visited the property on their recent vacation in Ireland. Both had heard footsteps from inside the house, followed by the sound of a door slamming and excited chatter as though two people were involved in a very animated conversation.
I must confess that I had never heard of Moore Hall, but following a little research I was delighted to find that, ghosts aside, the building itself was the childhood home of the novelist George Moore, a man who nobody seems to have liked very much!
W.B. Yeats described Moore's face as looking like it had been carved out of a turnip. Henry Arthur Jones said that he resembled "a boiled ghost." To Oliver St John Gogarty he was simply "that egregious ass," whilst James Stephens labelled him, "the famous novelist that everybody talks about and nobody reads."
However, what nobody could deny was that, for all his faults, George Moore was a talented and original writer and in his greatest novel The Lake he paints a pen portrait of Lough Carra that is as enticing as it is exquisite.
Lough Carra is one of Ireland's loveliest and least visited lakes and on a hill above it, lost amidst dark and gloomy woodland, stand the ruins of Moore Hall.
It is a gaunt shell of broken walls, toppled brick and fallen masonry. The gnarled branches of skeletal trees poke from its empty windows, whilst its basement is a sinister labyrinth of arched corridors and dark rooms, their floors carpeted by a mulch of decaying leaves and squelching mud.
On the day I visited it, a grey pall hung heavy over its roofless bulk. I found it to be a truly chilling and eerie place, and although entrance is now forbidden, due to its tragically precarious state, enough of its interior was visible from the outside to give the impression of what a glorious house it must have been in its heyday.
At the rear of the building I discovered an arched, dark tunnel that led to a wooden gate through which I could see the basement rooms, all of them exuding a gloom-laden and ominous air.
Maybe it was the effect of the surroundings at work on my imagination, but as I gazed into the cavernous rooms before me I suddenly heard the distinct sound of childish laughter echoing from the upper floors. I looked up quickly but could see nobody. I walked around the whole property and wherever possible peered in through the windows, but the house seemed quite empty.
I took a little more time to look around and to take my photographs before heading back to the car along the tree- lined avenue that forms the approach to the hall. As I did so, I became convinced that someone was watching me from the dark shell of the old house. A few times I felt compelled to look back, just to ensure that I was alone.
It was only when I arrived back at the car park and the rippling dark waters of the Lough stretched before me that the feeling of foreboding that had been with me since hearing the laughter began to lift and I felt at ease once more.
Gallarus Oratory
The rolling mountains and sea breezes of the Dingle Peninsula can often hide a rich archaeological past from the visitor.
Of the many heritage sites on the peninsula Gallarus Oratory is unique in both its setting and mystique.
Situated on natural farmland and exposed to the wild Atlantic winds and weather, this lovely little building of stone without mortar, resembles an upturned boat, and the fact that it is still waterproof is proud testimony to the skills of the humble ecclesiastical craftsmen who constructed it 1200 years ago.
It is the oldest intact building in Ireland, and was built for prayer at a time when the world was universally thought to be charged with the active spirit of a personal God.
Once inside this masterpiece of ancient stonework you are enveloped by the spirit of times gone by as your imagination soars back to a long ago era when the surrounding countryside - eerily beautiful yet frighteningly hostile and isolated - acted as a magnet to those who came in search of contemplative solitude.
And here, perched on the edge of Europe - or as they saw it the edge of eternity - those long ago monks and hermits could seek their God in a raw, ecstatic encounter with stone, wind, sea and sky.
Today the age of miracles has given way to the age of science and universal materialism has brought a strange paradox to this sacred place of spiritual simplicity.
Bus loads of camera toting tourists "doing Ireland" make up the largest proportion of its visitors. They traipse obediently through the visitors centre resplendent in their designer labelled clothing, walk the grass path that meanders up to the tiny Oratory, pose for a few digital pictures, walk back to their busses and are gone.
Yet in a quiet moment in the early morning or late evening, when the tour busses have parked up for the night, it is possible to stand alone within this ancient structure, and listen to the Atlantic winds flinging themselves with demented fury against the stone walls.
Then does the Oratory appear to shiver wearily as it braces itself against another onslaught, and then can you sense the presence of those long ago men of god to whom life was but a fleeting moment in which to prepare for that which lies beyond.
Lake Hotel
Lake Shore, Killarney, County Kerry
The Lake Hotel sits in tranquil isolation on the shores of Loch Leine, the lower of Killarney's beautiful and justifiably renowned lakes.
It is a long and modern looking building with creamy yellow walls.
But once inside, enough of the 19th century manor house has survived to give the firm impression that you have been pitched back to a bygone age. Its dark-wood staircase ascends to a veritable labyrinth of long shadowy corridors where the darker recesses - of which there are many - have a truly haunting ambience.
In the hotel grounds, and on the very edge of the Loch itself, stand the overgrown ruins of Castlelough Castle.
Built around 1220 and once home to the McCarthy Mors, (Ed an accent is over the o) the castle's lakeside location made it virtually impregnable and the McCarthy's came to enjoy a fearsome reputation as hard fighters and harder drinkers.
During the reign of Elizabeth 1st one of their number, Donal McCarthy, acquired the nickname of "Dan of the Feathers," due to his fondness for collecting the plumed helmets of vanquished Elizabethan troops as his trophies of war from frequent skirmishes with the English.
It is said that he even employed a retinue of women at the castle to make mattresses and cushions from these collected feathers!
His ghost, it is said, still drifts in a spectral boat across the glassy surface of the Lake in the dead of night. He has even been seen in the hotel's "Devil's Punchbowl" bar looking sadly across at the ruined castle, no doubt remembering long ago days of glory and bloodshed - although the pint of Guinness that he reputedly holds in his hand should perhaps be taken with a large pinch of salt!
When Cromwell's troops invaded Ireland, the castle was severely battered, and eventually its defenders, having put up a fierce resistance, were forced to submit.
This and nearby Ross Castle were the last in Ireland to surrender and it was here on the tranquil shores of Lough Leine that the Cromwelian Wars in both Ireland and England came to an end.
Over the years, many guests have reported close encounters with the hotel's other resident ghost, a girl aged between twelve and fourteen years old who has been seen flitting about the buildings darker corners and who has a fondness for wandering at leisure across the front of the building that faces onto the Lough.
Her appearances are always accompanied by what has been described as "a body chilling feeling" coupled with a sense of "total calm."
No-one knows for certain who she is, nor what long ago event has caused her earthbound wraith to walk the corridors.
A medium once succeeded in making contact with her spirit but, since the ghost insisted on speaking in "some form of Irish," not a great deal could be learnt of her reason for haunting the hotel.
Since her garb has been described as being a white dress in the style of the 17th or 18th centuries, staff have concluded that she may well be the little daughter of Ellen McCarthy, sister to "Dan of the Feathers," and have, therefore, christened their ghost "Ellen" after her mother.
Rockfleet Castle
Pirate Queen, nurse of all rebellions, dark lady, fearless warrior, ruthless plunderer, chieftain, traitor, noblewoman, mercenary and gambler - are just some of the terms that have been used to describe one of the most remarkable women to ever grace the pages of Irish history, even though that history has chosen to ignore her and left it instead to folklore and legend to preserve her memory.
Gráinne O'Malley was born around 1530, the only daughter of clan chieftain "Dubhdara" ("Black Oak") O'Malley, and his wife Margaret. They were hereditary rulers of a territory that stretched from the west coast of Ireland to the isle of Aran, and made their living by the sea.
Owen was a brave and fearless mariner who knew his business well. He was, however, forbidden to trade in his nearest port, the English-controlled Galway and, as a result, did business instead with Scotland, France, Portugal and, England's archenemy, Spain.
According to legend Gráinne had, as a child, begged to sail with her father but was discouraged from doing so, not least because a female aboard a ship was considered "devil's ballast" - a bad omen whose presence could only induce storms and cause shipwreck.
Unperturbed, she is said to have cut off all her hair and dressed in boys clothing, causing her amused family to nickname her "Gráinne Mhaol"("Bald Grace") which was later shortened to Granuaile, the sobriquet by which Irish legend and song best remembers her.
The ruse appears to have succeeded because the next record of her is when the English attacked her father's ship as he returned from Spain. Gráinne, ignoring Owens instructions to hide below deck, saved his life by leaping onto an attacker's back and causing a diversion that turned the battle in her family's favour.
Thereafter she often accompanied her father on his voyages, learning his cunning, studying his ways and, ultimately, inheriting his leadership qualities.
Those qualities began to manifest themselves when, at the age of fifteen, Gráinne married her first husband, the ferociously quarrelsome Donal-an-Coghaidh (of the Battles) O'Flaherty, heir in waiting of a powerful family whose motto was "fortune favours the bold."
She bore him two sons, Owen and Murrough plus a daughter, Margaret.
Donal's temperament, however, was more suited to pursuing personal vendettas than to ensuring the well being of his clan and consequently his people were soon enduring genuine hardship.
Granuaile stepped in to lead the O'Flaherties out of crisis and, by sheer force of personality, effectively made herself their chief, winning their loyalty and superseding her husband's authority.
Soon afterwards, Donal was killed by his hereditary enemies, the Joyce's, as they attempted to win back the island fortress he had taken from them on Lough Corrib.
Despite the ferociousness of their attack, he mounted such a brave defence that his admiring enemies nicknamed him An Cullagh (The Cock).
When they finally killed him, their jubilation at taking "Cock's Castle" proved short lived, for Gráinne put up such a fearless and skilful resistance that the Joyce's were forced to retreat and, grudgingly, renamed their fortress Caislean-an-Circa ("Hen's Castle"), the name it still bears today.
With her husband dead, Granuaile returned to her father's territory and took up residence at the O'Malley stronghold on Clare Island.
Strategically it was an ideal base from which to monitor shipping and she subsequently made a great deal of money from charging protection for safe passage, providing navigators, and even from out-and-out piracy.
The only portion of Clew bay not in O'Malley hands was the section overlooked by Rockfleet Castle. So, in 1567, Gráinne is said to have, literally, banged on its door and proposed marriage to the owner, Richard Bourke.
Determined that it would be conducted on her terms, she suggested that if either of them wished to withdraw from the union after one year, then they would be free to do so.
Tradition maintains that, at the end of the years' duration, she locked him out of his castle and, from the ramparts, shouted down "Richard Bourke I divorce thee."
Thereafter, the castle would be indelibly linked with her legend, and she would live here on an almost continuous basis until her death in 1603.
Their divorce, however, seems to have been short lived, since they were still married at the time of his death, sixteen years later.
Their only son, Theobold, was born in about 1567, reputedly whilst Gráinne was at sea.
Shortly after his birth Turkish Pirates attacked the ship and, with the battle going against his crew, her captain implored the exhausted Granuaile to come above and rally the men. "May you be seven times worse off this day twelve months, who cannot do without me for one day," she cursed.
Then, wrapped in a blanket, she rushed on deck where "her monstrous size and odd figure" so surprised the Turks that, "their officers gathered together talking of her" whereupon "she stretched both her hands, fired two Blunder Bushes at them and Destroyed the officers."
One of the most enduring legends about her dates from this period and concerns Howth Castle, which still stands some ten miles from Dublin City.
Returning from a voyage, she put in to the port of Howth for provisions. Granuaile duly went to see the local lord, St Lawrence, to seek his hospitality, as was the Gaelic custom. She found the castle gates locked and was told by the servants that his lordship was at dinner and would not be disturbed.
Heading back to her ship she came upon St Lawrence's young grandson playing in the grounds, kidnapped him and took him back to Clew as her hostage.
Convinced the ransom would be high, Howth opened negotiations for the boys' return.
Gráinne contemptuously dismissed his offers of gold and silver. Her price, she declared, was that the gates of Howth Castle must never again be locked and that an extra setting must evermore be laid at the dinner table, lest an unexpected guest should happen to stop by.
Relieved at the simplicity of the demand, St Lawrence agreed and returned to Howth with his grandson, where he faithfully kept his side of the arrangement and where, even today, the castle gates are always open and an extra place laid at the dinner table in commemoration of the family's legendary encounter with the Pirate Queen.
It was the arrival in Ireland in1584 of Sir Richard Bingham, newly appointed governor of Connaught that set in motion a chain of events that would culminate in Granuaile's most daring and ambitious escapade.
His implicit belief was that "the Irish were never tamed with words but with swords" and he set out to ruthlessly to destroy the Gaelic culture and parcel out the land amongst his loyal supporters.
He was desperate to suppress Gráinne O'Malley, and his opportunity came in 1586 when a force led by his brother, Captain John Bingham, brutally murdered her eldest son, Owen.
The grief stricken Granuaile began openly plotting an uprising against the regime and prepared to sail for Ulster to bring in Scottish mercenaries.
But Bingham sent his brother to capture her and, according to her later testimony, Granuaile and her followers were "tied with a rope" and "spoiled of their said cattle and of all they ever had." He even "caused a new pair of gallows to be made for her where she thought to end her days."
But her son-in-law was allowed to take her place as hostage and Gráinne was released.
Bingham, however, had taken her cattle and horses leaving her without any means of livelihood from her lands.
When he also began to suppress her ability to live by the sea, Granuaile decided that her only hope lay in going over his head and, thus it was that in 1593, she petitioned Queen Elizabeth 1st, outlining her grievances.
The Queen sent back 18 'Articles of Interrogatory,' a list of questions concerning the matter which Gráinne answered.
But, before Elizabeth could intervene, Bingham had Granuaile's sons and stepbrother arrested and charged them with treason.
Realising that time was now of the essence, Gráinne boarded her ship and sailed to London where she marched into Greenwich Palace and sought an audience with Elizabeth 1st.
On a summers' day, in late July 1593, these two remarkable and elderly women came face to face. Their summit almost certainly would have been conducted in Latin, and Granuaile appears to have argued her case impressively, since Elizabeth is said to have listened with a combination of admiration and sympathy.
But, that aside, we know nothing of what the two actually discussed at what was, apparently, a private meeting.
But, where history remains silent, legend possesses no such restraint and the Irish talent for storytelling has subsequently blessed us with an intriguing narrative of what occurred.
Early on in the meeting Gráinne is said to have sneezed and was given a richly embroidered lace handkerchief by a member of the court. Having used it loudly she promptly cast it onto the blazing fire. When the Queen reprimanded her, observing that it had been a gift and should therefore have been put in her pocket, Gráinne retorted that the Irish would never put a soiled garment in their pocket and therefore, evidently, possessed higher standards of cleanliness than the English.
When the Queen offered to make Granuaile an English Countess her guest sneered dismissively "I don't want your titles, aren't we both equals? If there be any good in the thing I may as well make you one as you me." And when the bemused Elizabeth defended herself against her visitor's accusation of idleness claiming "I have the care of this great country on my shoulders" she received short shrift. "There's many a poor creature in Mayo, who has only the care of a barley field, has more industry about them than you seem to have Queen of the English."
That Granuaile survived the audiences is evidence enough that these colourful exchanges are later embellishments. The fact that she impressed Elizabeth is demonstrated by court exchanges about the meeting, and by the fact that the Queen promptly sent word to Bingham instructing him to release his prisoners and demanding that he provide Gráinne with a living for the rest of her days.
Once back in Ireland, Granuaile put out to sea, under the guise of fighting for the queen.
But Bingham ordered a company of soldiers to follow her on all voyages and in the end she fled to Munster to stay with an old friend, Thomas, Earl of Ormond, who helped her petition the queen again, although there is no record of a reply.
Bingham's days, however, were numbered and, learning that a conspiracy to remove him from office was being waged by his fellow administrator's, he fled to England and was promptly imprisoned.
Granuaile eventually returned to Rockfleet Castle where the last years of this tempestuous and heroic woman were relatively tame.
She died at Rockfleet in 1603 and was buried in the Cistercian Abbey on Clare Island, where her remains may, or may not rest today.
Doubt exists thanks to a local tradition that her skull, suitably adorned with colourful ribbons, was for many years afterwards shown to curious visitors.
Then, in the 19th century, a company was formed in Scotland to gather bones for fertiliser. Its ships raided the West coast of Ireland, plundering immense quantities of bones from the old abbeys and churchyards.
Granuaile's remains, so it was claimed, ended up spread across a Scottish acre. But one of her grinders, the story goes, was discovered in a turnip by a Scotsman who choked to death on it!