Discover The True Story Of Sherlock Holmes
SORRY, NO LONGER AVAILABLE
The Man Who Murdered Sherlock Holmes takes the viewer on a journey through the streets of Edinburgh and London send tells the story of how a young Edinburgh doctor by the name of Arthur Conan Doyle came to create the world's most famous detective partnership, that of Sherlock Holmes and Dr John H. Watson.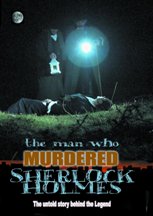 Presented by writer and broadcaster Richard Jones, and produced by acclaimed film maker Mark Ubsdell, this engaging Sherlock Holmes movie, in stunning High Definition, features expert interviews that provide a meaningful insight into the characters of both Arthur Conan Doyle and his, more famous, creations Holmes and Watson.
Beginning on the streets of Victorian Edinburgh the viewer is introduced to the troubled family life of the young Conan Doyle.
We follow him through his teenage years as he enrols as a medical student at Edinburgh University and comes into contact with the man who, according to Conan Doyle's own later admission, became the inspiration for Sherlock Holmes - Dr Joseph Bell.
The film then follows Conan Doyle to London and explains how it was that he placed his creation at, what is, arguably, now one of the world's most famous addresses 221B Baker Street.
We follow Conan Doyle's progress as the Sherlock Holmes stories increase in popularity and the fame of his deductive abilities spreads throughout the world, in the process making Conan Doyle one of the highest paid writers of all time.
But, with the popularity of Sherlock Holmes soaring, Conan Doyle Doyle grew tired of him and began seeking a means by which he could kill off his creation once and for all.
When the deed was done, and Conan Doyle had finally become the man who murdered Sherlock Holmes, the public reaction was one of shock and outrage, and Conan Doyle was subjected to a barrage of abuse from disgruntled readers.
The expert interviewees treat the viewer to some choice quotes that were sent to Conan Doyle by his readership giving a vivid insight into just how seriously the Victorian public had taken Sherlock Holmes to their hearts!
However, Conan Doyle did bring Holmes back in, what is, his best known, and most filmed story The Hound Of The Baskervilles, and viewers are taken to Dartmoor where dramatic reconstructions bring the narrative of this adventure to life.
the Hound Of The Baskervilles though wasn't a resurrection of Sherlock Holmes but rather was presented as a prequel that took place prior to Sherlock Holmes's death.
But it proved so successful that Conan Doyle was persuaded to bring Holmes back to life and thus, Sherlock Holmes and Watson appeared in a whole series of new and exciting adventures.
All in all The Man Who Murdered Sherlock Holmes is a fascinating drama/documentary that has won acclaim from numerous Sherlock Holmes societies around the world. It will provide the viewer with a terrific insight into the world of Sherlock Holmes as well as presenting some intriguing facts about the love/hate relationship that Conan Doyle enjoyed with his meal ticket detective, Sherlock Holmes.