DISCOVER LONDON'S HAUNTED LOCATIONS
London has a reputation for being the world's most haunted capital, with ghosts from every era and in every area of the city.
From Highgate to Wimbledon, Chiswick to Chelsea, Docklands to Hampstead, spectres can be found in every kind of location, from pubs, hotels and theatres to bridges, monuments and parks.
In this book, renowned paranormal researcher Richard Jones recounts the tales of almost 200 hauntings. he guides you around haunted London, taking you to a whole variety of fascinating haunted places.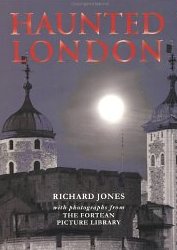 From the most haunted building in Britain - The Tower of London, to the most haunted house in London at 50 Berkeley Square, where the ghosts have been known to, literally, scare people to death, this exhaustively researched tome leaves no gravestone unturned in its mission to root out the capital's spectre ridden locations.
There are tales of tragic ghosts and vengeful ghosts. Of playful ghosts and terrifying ghosts. You will learn about dastardly villains and steadfast heroes. You will hear tales of ghastly murders and gruesome executions.
Whether you prefer tour haunted London from your armchair or would rather get to grips, so to speak, with the more ghoulish aspects of London on foot, this book will transport you back through history to the time when Jack the Ripper roamed the shadows; when Oliver Cromwell's body was exhumed, tried and 'hanged;' and when Nelson died at the very moment of his greatest victory at the Battle of Trafalgar.
Richard Jones is an informed and entertaining guide who retells the tales of famous, infamous and ordinary wraiths who inhabit London's underworld. Whether they were plague victims, murderers, actors, lovers, or just kindly old ladies, their hauntings will most certainly captivate you.
Illustrated throughout with atmospheric photography and supported with detailed maps that give the exact location of every haunting, this indispensable guide to the capitals spectral places wil entertain, enlighten and mystify by turn.