TRUE GHOST STORIES FROM
NORTHERN IRELAND
Springhill
Nr. Moneymore, County Londonderry
On every count Springhill is a truly attractive house. Its brilliant white walls, dark, narrow windows and grey slate roof, capped by chimney stacks of dull red brick, blend harmoniously into the sylvan landscape that surrounds it, and no-one who ventures here can help but fall beneath its spell. Its interior has a lived in and welcoming feel, and you can just sense that little has changed in a centuries.
Indeed those to whom this place was once home would have little trouble recognising it today, no matter which period of its three hundred year history they happen to have stepped out of.
Although the exact date of its construction is uncertain, its origins go back to1680 when 'Good- Will' Conyngham married sixteen-year-old Ann Upton. Her father – anxious to ensure that she and any offspring should be kept in the manner to which he thought they should become accustomed - drew up a marriage contract requiring Good Will to build 'a convenient dwelling house of lime and stone, two stories high with the necessary office houses, gardens and orchards.'
Rising to the challenge, Will erected a handsome tall-roofed house which was added to and lived in by ten subsequent generations of his family, until in 1957 Captain William Lenox – Conyngham bequeathed Springhill and its contents to the National Trust.
Today visitors to the house can admire its period furnishings and the renowned oak staircase, whilst enjoying the eerie sensation of having their every footstep watched by long dead members of the family whose portraits gaze down from the walls.
Without doubt Springhill's spookiest section is the blue-room. The moment you step into it the temperature drops alarmingly and it remains cold throughout all the time you spend there – a fact that the guides who lead the tours put down to the "presence,"which is known to haunt the room.
In 1814 George Lenox-Conyngham, a man prone to bouts of melancholy, was away on his duties in the army when he received news that his children had gone down with smallpox. Out of his mind with worry he awaited news of their conditions, and when none came he abandoned his post early one night and headed for Springhill.
On the way he met his commanding officer Robert Stewart, but since they were good friends, and given that he had similarly covered for Stewart on other occasions, he felt sure that he would understand the urgency and necessity of his quest.
Stewart raised no objections and Lenox-Conyngham made it back to Springhill where he found that his wife, Olivia, had nursed all the children back to health. His relief though was soon tempered by the news that he was to be court marshalled for abandoning his post. His so-called friend had betrayed him.
This, coupled with the sudden death shortly thereafter of one of his daughters brought on a fit depression that lasted two years.
Then, one night, he went downstairs to the gunroom, took a pistol from the wall, returned to the blue room, sat on the bed and shot himself. Olivia, realising what he was about to do, rushed to prevent his suicide but had just reached the bedroom door when she heard the pistol fire.
Later Olivia would write in the family bible "George Lenox-Conyngham being in a very melancholy state of mind for many months prior, put an end to his existence by a pistol shot. He lingered from the 20th Nov.1816 to the 22nd, and died, thanks to almighty God, a truly penitent Christian…"
Olivia's ghost is still said to repeat the desperate dash to prevent her husband's death and has been seen on several occasions standing at the door of the blue room, her hands raised in horror.
She was seen in the latter part of the 19th century by a houseguest named Miss Wilson, who had sat up late one night chatting with the daughter of the house, Milly Conyngham.
When Milly finally retired to bed Miss Wilson noticed that she had left her diary behind. Leaving the room to return it, she was startled by the sudden appearance of a tall woman at the top of the stairs.
The apparition moved to the door of a bedroom, proceeded to raise her arms, apparently in despair, and then slowly faded away.
Years later another guest of the house – a Miss Hamilton – had gone to bed one night in the blue room when, just as she was starting to fall asleep, the room appeared to fill with agitated servants who were "pushing and wrangling in whispers." As she lay there terrified she heard a clicking noise from the wall behind her bed and turning, saw a door open and a light shine from it. She later recalled how "someone seemed to come out through this light and stilled the commotion, so that all fear left me, and after a while I fell asleep."
On waking the next morning she was startled to find that no door existed anywhere behind her bed. However, when she reported her experience to Charlotte Lenox-Conyngham, she was told that there was a door behind the bed but that it had been long since been papered over!
Interestingly, years later the blue room's wallpaper was stripped off and the secret door uncovered. It opened into a powder closet, on the floor of which lay an ancient pair of gloves and small pouch containing bullets.
In the early years of the 20th century the last generation of Lenox-Conyngham children to live at the house were sleeping one night when their nursemaid suddenly awoke to find Olivia's phantom standing over her charges gazing intently at them, as though checking the well-being of each one of them in turn. The nursemaid felt no fear at all. Indeed she was moved by the concern that the apparition appeared to show towards the children. Within a few moments, evidently satisfied that all was well, the ghost simply faded away and was gone.
Springhill is a lovely and atmospheric place and the custodians are at pains to point out that there is nothing malevolent about its otherworldly residents.
It is a genuinely tranquil and fascinating place to visit, and should the ghost choose to honour you with an appearance you can leave this tranquil slice of old Ireland knowing that you have been welcomed to the house by its oldest and most illustrious resident.
Grace Neill's
Donaghadee, County Down
This is a wonderfully atmospheric old pub and and its front bar in particular makes a visit here well worthwhile.
Grace Neill's claims the distinction of being the oldest pub in Ireland. It first opened its doors for business in 1611 and was originally called The King's Arms.
When the poet John Keats visited Donaghadee on a 'beautiful sunny day' he was most impressed with how 'charming and clean' the town was.
The inhabitants, on the other hand, struck him as a 'rough and savage' bunch, especially the regulars at The King's Arms, where he was 'treated to ridicule, scorn and violent abuse by the local people [who] objected to my mode of dress and thought I was some strange foreigner', which, given that he was from England, was probably a fair supposition!
Grace Neill ran the inn for much of the 19th and early 20th centuries. She was a characterful lady who kept a commodious establishment and liked to keep a watchful eye on proceedings whilst enjoying an indulgent puff on her clay pipe.
Quite what Keats would have made of her custom of greeting strangers to her inn with a welcoming kiss is anybody's guess!
Although Grace died in 1916, her guiding spirit has remained behind to ensure that the hostelry that now bears her name continues to operate with the smooth efficiency her clients had come to expect. Several portraits of her gaze down from the walls, and the dark, cosy front bar, with its delightful little snuggery - said to have been constructed from old ship's timbers - can have changed little since her tenure.
It is here, away from the much larger and newer back rooms, where the pub's ghostly activity occurs. Members of staff have looked on in astonishment as an unseen hand has moved glasses and books around. Lights get switched on and off.
Slow, ponderous footsteps have been heard crossing the upstairs floors, chilling the blood of many a tippler in the bar below.
Occasionally there are reported sightings of a Victorian lady, described as being 'contained within a puff of steam' , flitting about the darker recesses of the premises, and people have felt an invisible presence 'pass through them' in the vicinity of the pub' s staircase.But the management are at pains to point out that customers have nothing to fear from Grace, and describe her as a friendly and welcome wraith.
And, since the list of past customers is as diverse as Peter the Great of Russia, the composer Franz Liszt, former Beirut hostage Brian Keenan and pop diva Tina Turner, it's comforting to know that Grace's guiding spirit is still around to ensure that the staff adhere to the standards of hospitality she insisted upon - although a welcoming kiss (unless the circumstances are exceptional!) is no longer on offer.
The pictures of Grace Neills have been used with the kind permission of Mr Neill Savage Managing Director of Grace Neills, whose copyright they remain.
Lissan House, Nr Cookstown, County Tyrone. Northern Ireland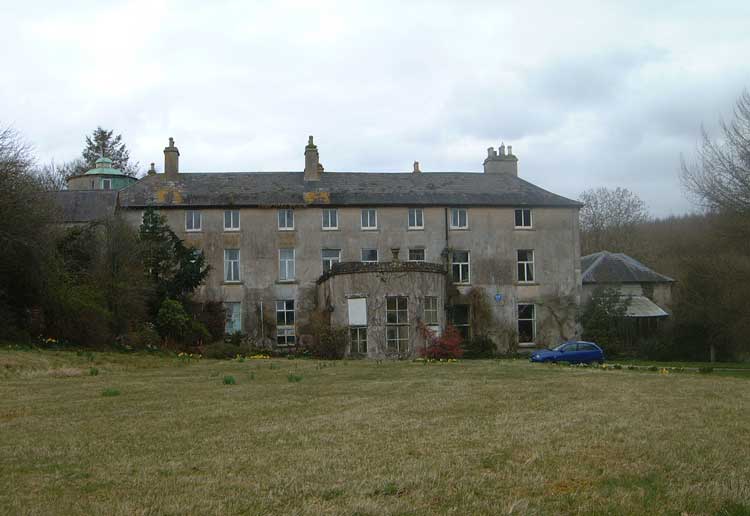 Lissan House exudes a world-weary air of resigned detachment.
It is encircled by a luscious variety of towering trees, and stands on the sleepy banks of a babbling river.
Lissan House has evidently known better days, yet it manages to wear its past proudly and stands as a vivid testimony to the Staples family, to successive generations of whom this lovely and spiritual old house has been home for some four hundred years.
A blue plaque on the outside of the house commemorates the artist Sir Robert Ponsonby Staples (1853-1943), many of whose paintings can be seen inside the hall.
Wherever he went, the tools of his trade went with him and he was always sketching the people and events that he came across.
These little moments of frozen time, captured by his pencil, provide delightful studies of the early Edwardian era.
One of his most cherished beliefs was that the ills of modern life were caused by peoples persistence in covering their feet with leather, thus preventing them from absorbing the earth's magnetism. Sir Robert, therefore, insisted on walking about without socks or shoes - an eccentricity that earned him the nickname "The Barefoot Baronet."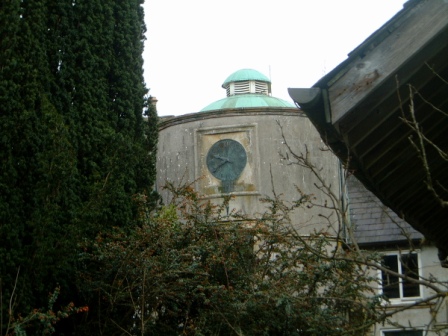 It is inevitable that family members who were so spirited in life, should in death have left indelible traces upon the fabric of the old house.
People see and hear things all the time, although as Hazel Radclyffe Dolling - the hall's current owner - points out, this is only to be expected in a house of such antiquity.
There are cold spots where the psychically inclined sense a definite "presence."
The heavy footsteps of an invisible man have been heard plodding their way through the house at night. The fragrant aroma of rose petals and lavender has been known hang in the air.
Then there is the crying child whose heart-rending sobs have been heard by several people. On one occasion a guest walked up to the first floor landing and found a group of children playing a game. She called out to them but they just ignored her. Next moment they had skipped off down the hall and disappeared.
At the time there were most certainly no children present anywhere in the house.
Ballygally Castle Hotel, Ballygally Larne, County Antrim, Northern Ireland
Part 17th-century castle, part modern hotel, Ballygally Castle is surrounded by brooding hills and gazes out over the grey waters of the Irish Sea.
A winding staircase twists its way up the inner wall of the castle to the sparsely furnished 'ghost room'.
It has a melancholic air, complemented by the portrait of a sad-looking lady that gazes down from one of the room's whitewashed walls.
Her name was Lady Isabella Shaw, and hers is the revenant that roams this imposing fortress.
Tradition holds that her husband longed for a son, but when his wife gave birth to a daughter his anger knew no bounds.
He imprisoned them both in this, the highest room of the castle, and left them to starve.
Heartbroken by the cruelty of her spouse, the distraught lady took her baby in her arms, opened the window and leapt to her death.
Lady Isabella's ghost is now said to walk a time-worn path around the sturdy bastion and has a particular fondness for knocking loudly on guests' doors. Yet when they answer there is never anyone there.
Annoying as this spectral prank might be, it pales in comparison to the more disturbing phenomena that occurs in the vicinity of the ghost room.
Several people ascending the old staircase have heard the sounds of a baby sobbing. As they hurry to comfort the anguished infant, its bawling grows louder and becomes more distraught. But when they reach the apparent source of the noise, and push open the door of the ghost room, the cries suddenly cease and they find that the room is empty.
Beltany Stone Circle
A muddy climb along a rough path brings you to the exposed summit of Tops Hill where stands the truly enchanting stone circle of Beltany, a name derived from 'Baal Tinne,' the Fire of Baal, which suggests that the pagan practice of sun worship was once carried out at this lovely spot.
The circle - comprising of sixty four stones but originally far larger - is sometimes referred to as "the Stonehenge of Donegal," although archaeology dates it to around 2,000BC, making it a good two hundred years older than Stonehenge.
Of course, the passage of time has obliterated any remnants the paint or clay with which those long ago worshippers may have decorated the stones and their surroundings.
Lost also are the words that would have been uttered along with any trace of the rituals that were practices here.
There can be little doubt, however, that people came here to venerate the deity Baal, the great Sun God and ruler of nature. These celebrations were always carried out on a hilltop so as to ensure a view of the rising sun at the exact moment that it began its climb into the firmament. Tradition holds that the principle ceremonies were held on June 21st, on which day the lawgivers lit sacred fires at the centre of the circle that symbolised the sun, whilst the surrounding stones depicted the stars.
This is a truly mystical location, and a genuine aura of magic and mystery pervades the whole site.
Indeed as you begin the trudge back down the hillside you are left with the overwhelming sensation that your visit had re-energised you and instilled in you that sense of awe and wonder that people must have felt when they came here to worship at the dawn of time.
Carrickfergus Castle
Carrickfergus, County Antrim
Carrickfergus Castle sits atop a jagged knoll and is an imposing fortress whose origins stretch back to 1185, when Anglo-Norman adventurers were riding roughshod over the country, carving out large chunks of land on which to establish family estates and dynastic fortunes.
One such buccaneer was John de Courcy, a Norman Lord who had heard a prophecy that Ulster would one day be conquered by a white knight from a foreign land, riding a white horse, with birds of prey upon his shield.
Since he was fair- haired, de Courcy became convinced that he was the knight of whom the legend spoke and thus, mounted upon a white warhorse and bearing a shield emblazoned with heraldic birds, he led a small band of well-armed soldiers into Ulster and began a campaign of bloody conquest that lasted for over a quarter of a century.
Each victory was consolidated with a Castle, such as the one at Carrickfergus, which now has the distinction of being the oldest intact stone castle in Ireland.
In 1210 the castle was taken over by King John who made it an administrative centre for English government, in which capacity it served for the next seven centuries.
There is a deep, dark well in the castle, around which the ghostly apparition of a soldier is said to appear.
A tragic tale of love and betrayal, culminating in monumental miscarriage of justice is said to lie behind the haunting. Robert Rainey, a soldier stationed at Carrickfergus Castle around the 1760's, was a man with a wild reputation. But, when met and fell in love with a local girl named Betsy Baird, he vowed to forsake his wayward ways if she would marry him. He was overjoyed when she consented.
But, unbeknown to Rainey, Betsy was also involved with the brother of his commanding officer, a Colonel Jennings.
How Rainey discovered his fiancÚs infidelity is unknown. But when he did, his reaction was one of uncontrollable fury and, when he encountered his rival on the road outside, he ran him through with his sword.
Calmly sheathing his weapon, he returned to his quarters, washed away the incriminating bloodstains, and retired to bed.
Stationed at the castle was another soldier called Timothy Lavery who bore an uncanny resemblance to Robert Rainey. Before Jennings died he was able to tell his brother what had happened, although he insisted that Lavery had been his assailant.
The unfortunate Lavery was charged with murder and, despite his protestations of innocence, was found guilty and sentenced to death.
As the noose was placed around his neck he summoned up every last ounce of energy and vowed to haunt the castle ever more.
Although Rainey confessed the truth many years later, Timothy Lavery's indignant spectre was singularly unimpressed and continues hover around the old well, which some call "Buttoncaps Well" in his honour.
This was his nickname in life, earned as a result of his always wearing a large button at the centre of his cap.
Dunluce Castle
Nr. Portrush, County Antrim
Protected by sheer cliffs and sprawled across a sea-sprayed dais, the gaunt shell of Dunluce Castle is a reminder of wilder, more virulent times, and few castles can boast an aspect that is more awesome or dramatic.
Its soaring ramparts and shattered turrets, punctured by the eyeless slits of hollow windows, look down upon pebbled pathways that snake their way into roofless rooms behind whose lichen covered walls, thousands of memories must be sealed.
The first castle to be erected on the site was built by the MacQuillans in the 14th century and it is possible that the outer walls with the two round towers date from their tenure.
The ghostly white lady, whose nebulous shade wanders the North East Tower, is believed to have been a daughter of the family whose father forbade her to marry the man she loved, causing her to pine away here and die of a broken heart.
In the 16th century the castle came into the possession of the MacDonnells, and it is with their occupancy that its history is most indelibly linked.
Sorley Boy MacDonnell (1505-1589), inherited the families Irish estates in 1556. He was taken prisoner by his brother-in-law, Shane O'Neill, at the battle of Glentaisie in 1565 and held captive for two years, before his kinsmen set him free, having murdered Shane during a banquet called to negotiate a truce between the two families.
In 1584, Queen Elizabeth 1st's Lord Deputy of Ireland, Sir John Perrot, brought an army to Dunluce and battered the garrison into submission with a relentless bombardment of cannon fire. Having evicted Sorley Boy, he installed Peter Carey as constable of the castle.
Queen Elizabeth, however, was furious at the unnecessary expedition and, in 1586, granted the castle back to Sorely Boy who celebrated his arrival by hanging the unfortunate Carey from the ramparts of the South East Tower. Spurredon, no doubt, by the indignity of his demise – his ghostly figure, clad in a purple cloak and sporting a ponytail, has wandered the tower ever since.
In 1635 Sorley Boys grandson, Randall, married Catherine Manners, the widow of the Duke of Buckingham, and brought her to live at Dunluce. This elegant lady was used to the cosseted life of London society and she found her new home something of an ordeal. She hated the place, and the constant boom of the sea drove her to distraction.
One stormy night in 1639, as the family sat down to dinner, her worst fears were realised when the north wall of the Kitchen Court collapsed into the sea, taking several servants to a watery grave. She point blank refused to live on the rock again and persuaded her husband to build a new house on the mainland.
Although the castle remained habitable and usable for the remainder of the 17th century, the fact that it ceased to be the main residence of the MacDonnells effectively sounded its death knell.
The relentless assault of the elements gradually reduced it to the ruin that it is today and no visitor can fail to be impressed by its mysterious ambience and dramatic location.
And, even though the castle has now settled into a docile old age, past residents still make occasional forays from beyond the grave to remind us of its stormy and eventful past.
Several people have reported feeling a cold chill on entering the South-East Tower, as if some unseen presence has pushed past them.
Staff arriving at the castle's shop in the morning, sometimes find that books have been lifted from the shelves and placed neatly on the floor overnight, or radios that were definitely switched off the previous day, have been mysteriously switched back on.
Whoever the spirits that now walk the ethereal plain of Dunluce Castle may have been in life, their activities are seldom malicious and rarely inspire fear.
Indeed, those who encounter them are more than happy to let them continue about their ghostly business, just as they have done and, no doubt, will do for as long as these ancient walls shall stand.
Dobbin's Inn Hotel
Carrickfergus, County Antrim
Around AD1200 Reginald D' Aubin was granted a parcel of land in the shadow of the newly completed Carrickfergus Castle. He set about building a tower house, which remained in the possession of his descendents for several hundred years.
By the 15th century the family name had been changed to Dobyn and successive generations became important local dignitaries, several holding high civic office.
In the reign of King James I, during the Plantation of Ulster, their house became a shelter for Catholic priests who would celebrate secret masses on the premises, and a priest's dating from those troubled times, is still visible in the hotel' s reception.
It was during this period that the inn acquired its resident ghost, when Elizabeth, wife of the owner, Hugh Dobbins, fell in love with a handsome soldier, stationed at the castle opposite.
At night she would creep through a secret tunnel (the entrance to which is still evident at the back of the huge stone fireplace in the hotel's reception) in order to enjoy romantic trysts with her soldier love, remembered simply as 'Buttoncap'.
But her husband discovered their affair and, according to contemporary accounts, 'did put them to death with his sword'.
Whether or not the husband was punished is not recorded, but Elizabeth' s ghost has wandered the building ever since.
In 1946 the old property was converted into a hotel and the spirit of Elizabeth - or Maude, as she for some reason became known - lingered on as its oldest resident.
Several guests have been wakened from their slumbers by the light touch of a ghostly hand caressing their faces.
Others have caught glimpses of a furtive figure flitting across reception and disappearing close to the stone fireplace.
A waiter, working in the restaurant one night, was struck on the back of the leg by a coin, but when he turned to remonstrate with whoever had thrown it, he found that the room was empty.