BRITAIN'S HAUNTED INNS AND TAVERNS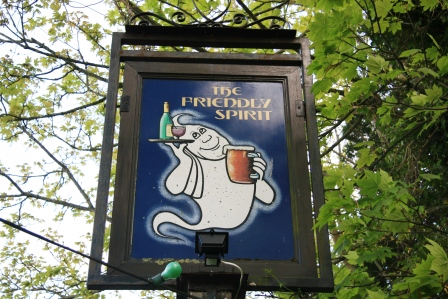 By Richard Jones
In September 2002 I undertook the first leg of a journey that would, over the next eight months, take me to some wonderfully atmospheric old inns and haunted pubs dotted across the spectral landscape of Britain and Ireland
With somewhere in the region of 60,000 inns and pubs to choose from, the first hurdle was to work out which ones were haunted and, of those, which were worth featuring in my upcoming book Haunted Inns of Britain and Ireland.
WRITERS ON HAUNTED PUBS
I was able to fall back on the stories collected by those inexhaustible researchers who had gone before me – and I must acknowledge a huge debt of gratitude to Marc Alexander, Andrew Green, Jack Hallam and Peter Underwood in this respect – but I soon discovered that previous books on the subject had been, on the whole, unrepresentative of the haunted pubs of Scotland, Wales and, in particular, of Ireland.
I wanted a selection of haunted pubs whose ghost stories had never been published, so I began by sending a generic e-mail to almost 900 potential hostelries asking if they were haunted and, if so, whether there would be any objection to my using their stories.
Having whittled my list down to around 250, I set off on my journey.
HAUNTED PUBS OF WALES AND IRELAND
I had not been particularly successful in finding haunted pubs in either Ireland or Wales - so in both these countries I resorted to simply stopping at likely looking inns and asking the bar staff or owners if the place was haunted.
I quickly discovered that there was a natural reluctance on the part of some managers to admit that their premises had a ghost, for fear of deterring potential guests.
SPIRITS BEHIND THE BAR
Consequently - in addition to the much-cracked quip, 'The only spirits here are behind the bar' - quite a few of the ghost stories I collected tended to be somewhat vague: glasses 'mysteriously' falling off shelves, for example, or staff experiencing the unnerving feeling that they were being watched by an invisible 'someone' or 'something' as they went about their duties.
PUBS ARE CHANGING
The main problem I encountered was that, in the previous 15 or so years, the pub scene in Britain and Ireland had witnessed dramatic change.
On quite a few occasions I arrived at a potential inn only to find that it was now a Chinese restaurant, nursing home, that it had been converted into offices or flats, or even that it had been demolished.
Multinational conglomerates that install a salaried manager have swallowed up many of the inns that were formerly family concerns, kept by a single tenant for many years, or passed down through successive generations.
These modern managers might hold their position for only a year or two before being replaced.
PUB TRADITIONS BEING LOST
Consequently, the old traditions and stories – once the stock in trade of the innkeeper – are rapidly being forgotten.
Even that 'reliable' source of information for all ghost and folklore researchers, the knowledgeable local, is being driven from his seat at the bar by an industry more intent on pouring vast quantities of alcho-pops down the throats of sweet-toothed teenagers than on preserving an important part of our heritage.
I would urge those who might accuse me of exaggeration to visit half a dozen or so of the modern heritage industry's pubs, to see for yourselves how virtually every interior is the same, furnished and decorated from a standard blueprint that the marketing department believe to be everyone's image of a so-called 'traditional' inn.
It is for this reason that several famous haunted inns have been omitted from this book; they were so disappointing that I couldn't summon up any enthusiasm for them.
However, gradually my researches began to reap rewards and I managed to find a reasonable selection of inns that were both haunted and characterful.
LANDLORDS WHO ARE CHARACTERS
It was also very refreshing to encounter the occasional host who embodied all that an innkeeper should be: a character.
I won't name the inn where the landlord threatened to have me arrested for photographing the exterior of his pub before he was actually open!
Nor the manager who, in a delightful reversal of the 'How can I help you and have a nice day' ethos of the modern service industry, responded to a request for a cup of tea from an unassuming lady with the straight-faced classic, 'No, madam – this is a public house, not a cafe'.
As it transpired, both of these happened to be haunted pubs and thus were included in the book and are now featured on the Haunted Britain website.
They are among the 130 or so inns that appealed to me on account of their ghost stories and ambience.
HAUNTED PUBS TO SUIT ALL TASTES
I sincerely believe that the haunted pubs I chose to report on will appeal to you as much as they did to me.
And who knows, you might be enjoying a pint by the inglenook one evening, or snuggling beneath the duvet in a low-beamed bedroom, when a sudden drop in temperature, followed by a faint flicker of something mysterious, heralds the approach of a resident wraith - and you too might be fortunate enough to be able to tell people about the night you saw a ghost at a haunted pub!