The Acclaimed Jack the Ripper DVD
Unmasking Jack the Ripper is the acclaimed Jack the Ripper movie takes viewers back in time to the autumn of 1888 when the Whitechapel Murders struck terror and panic into the hearts of the men, women and children who lived in the East End of London.
Written and presented by leading Jack the Ripper historian Richard Jones, and directed by acclaimed film maker Mark Ubsdell, this dramatic retelling of the Jack the Ripper story has won universal acclaim from ripper historians the world over.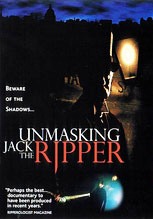 Ripperologist Magazine hailed it as "...perhaps the best...[Jack the Ripper]...documentary to have been produced in recent years," whilst the leading American journal on Jack the Ripper related studies, Ripper Notes, described it as "one of the best, if not the best, Ripper documentaries in years."
The Museum in Docklands, whilst looking to stock Jack the Ripper DVD's of their 2008 Jack the Ripper exhibition, compared it with several other similar documentaries and, having concluded that it was the best of the bunch, stocked it in their shop throughout the exhibition. Indeed, such is its attention to historic detail that many schools throughout Britain use Unmasking Jack the Ripper as part of their Victorian studies history syllabus.
This riveting drama/documentary takes viewers on a chilling journey through the events of 1888, the year in which the Ripper Murders occurred in London. Filmed on location at the various Jack the Ripper murder sites, and in the London Dungeon's atmospheric Jack the Ripper exhibition, the film is effectively a Jack the Ripper Tour that follows the ripper's bloodstained trail of terror through the very streets where the infamous crimes occurred.
Contemporary Victorian photographs show the streets of the East End as they were at the time of the murders, whilst dramatic re-constructions of the major events help provide a vivid insight into the crimes themselves and of the police investigation into the killings.
Lasting 90 minutes the narrative moves at a fast pace which means that the impetus is never lost as the viewer is taken on a breathless Jack the Ripper Tour through the fully story of the world's most famous murder mystery.
Expert interviews with the likes of leading Jack the Ripper historian Paul Begg (author of the Complete Jack the Ripper A - Z and of the critically acclaimed Jack the Ripper:- The Definitive history), help inject a wealth of expert opinion and analysis into the film, whilst an appearance by an elderly lady who was once told she may descended from jack the Ripper bring a humanising element to the narrative.
So, if you are intrigued by the of the Jack the Ripper murders, and want to know the full story of how these crimes really did shake Victorian society to its very core, then this acclaimed Jack the Ripper movie is just the job!