CHILLING TOURS OF HAUNTED LONDON
WITH LONDON'S MASTER OF THE MACABRE
TWO GREAT WALKS TO CHOOSE FROM
FRIDAYS AT 7PM
SATURDAYS AT 7.30PM
LONDON'S PREMIER GHOST WALK GUIDE
Richard Jones is London's leading Ghost Walk guide and one of the Capital's premier Jack the Ripper Tour guides.
When you join him for one of his haunted tours of London you are joining an acknowledged expert on matters spectral, mysterious and legendary.
AN INTERNATIONALLY PUBLISHED AUTHOR
He has written 16 best selling books on paranormal and mystical Britain, is the author of two acclaimed books on Jack the Ripper, and has appeared on numerous documentaries about the ghosts of Britain and Ireland and on the Jack the Ripper murders.
MOST HAUNTED LIVE AND PARANORMAL ACTIVITY 2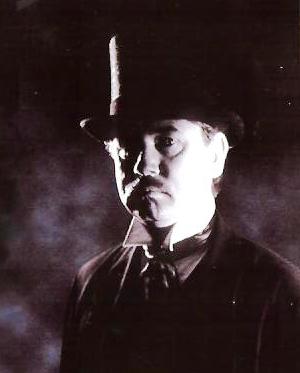 From 2003 to 2005 he was the resident historian on the hugely successful Most Haunted Live, and in February 2011 he was chosen by Paramount Pictures to spearhead the publicity campaign for the DVD launch of Paranormal Avidity 2.
In short, when it comes to haunted London tours, Richard Jones offers you an unrivalled degree of expertise, and no other ghost walk guide comes close to matching his specialist knowledge on the subject.
JOIN THE GUIDE WHO WROTE THE BOOK
The honest truth is that many ghost walk guides in London use Richard's books to get the information that they then relay to their groups on their tours.
But why would you want to be taken round haunted London by a guide who has read a book when you can actually join the guide who wrote the book?
When you join Richard's ghost walk, you are joining the source, the man who wrote the books and who knows more about haunted Britain and the paranormal than any other London walks guide.
A MASTERFUL STORY TELLER
But Richard doesn't just have the knowledge, he has the ability to put that knowledge across to his audience in a way that is gripping, entertaining and, at times, thoroughly spooky.
Ghost tours are different to other types of guided tour in that they require a guide who is a natural born storyteller if they are to be successful and enjoyable.
You don't want to be stuck with a guide who just drones on and on in a dull monotone about historical facts, and who injects no drama or humour into the commentary.
People who go on ghost walks want to be spooked and entertained, not be treated like they're on a school outing.
That is why when you join Richard's ghost walks you get a performance not a commentary.
His storytelling abilities will bring the streets through which you walk to vivid and spectral life, whilst the ghost stories that he regales you with will amaze, amuse, astonish, entertain and, at times, outright terrify you.
TWO GREAT HAUNTED TOURS TO CHOOSE FROM
Richard offers three tours of haunted and macabre London.

FRIDAYS AT 7PM
Walk in the footsteps of the many former citizens who still return to the old streets, alleyways and buildings that they once knew so well in life.
The Ghosts, Ghouls and Graveyards London Ghost walk has been going strong for 28 spooky years and enables participants to explore and experience one of the City's most atmospheric quarters.
Your ghost walk begins in an ancient churchyard where the enraged spectre of the "She Wolf of France" has been known to chill the blood of many a late night wanderer.
You then make your way to another churchyard to hear of the bell that once tolled a mourning knell for those who were about to be executed in the square on the opposite side of the road.
From here you make your way through some of London's most historic and atmospheric streets where Richard will regale and entertain you with true ghost stories that will elicit feelings of fear and fascination in equal measure.
HIGHLIGHTS OF THE LONDON GHOST TOUR INCLUDE
The street where London's most famous ghost ever chose to make its appearance in the 18th century
The old hospital where, from time to time, a ghostly elevator sends shivers racing down the pines of those who use it in the early hours of the morning.
The spot where William Wallace Braveheart was put to death an where ghostly screams still sound on the night breezes
The oldest parish church in London where a ghostly monk seeks solace in its tumbledown churchyard
The ruins of Roman London where ghostly lights flicker in the dead of night and where many people on the London ghost walk have captured the image of someone or something lurking in a dark corner
So, if you are looking for an inexpensive night out in London that is slightly chilling and totally engrossing, then why not join London's Master of the Macabre on the ultimate journey through the ghosts, ghouls and graveyards of haunted London.

SATURDAYS AT 7.30PM
As twilight's gnarled fingers reach into the hidden alleyways and tucked away courtyards of old London, Richard's original ghost walk sets out in search of the City's dark recesses where ghosts are known to lurk.
Beginning in the heart of the ancient City of London, and setting out from an underground station that is itself haunted by an undefined something, this creepy London ghost tour twists and turns through some of the most atmospheric alleyways and courtyards imaginable.
This was Richard's very first London ghost walk which he first conducted 29 spine tingling years ago and which, like a fine wine or a ragged old roué, has only improved with age.
Your evening of spectral delight begins in a shadow dappled alleyway where the faint touch of the devil's breath might chill your soul and send cold shivers racing down your spine.
From here you move onto to a timeless courtyard in which Charles Dickens began his most ghostly of ghostly tales A Christmas Carol.
Having paused in an old churchyard, perched precariously on the summit of one of London's highest hills, to tell a grisly story of grave robbing and its ghostly consequences, Richard's alleyways and shadows London ghost walk then passes the location that was Diagon Alley in the first two Harry Potter films.
From that point on the Old City Ghost Walk meanders through narrow alleyways and hidden passageways that snake between high rise modern office blocks, but which are so secret some have worked alongside them for years don't know of their existence.
HIGHLIGHTS OF THE GHOST WALK INCLUDE
The City institution where the ghost of the black nun strikes terror into the hearts of the late night city wanderers who encounter her.
The hidden courtyard where one of 19th century London's strangest happenings occurred.
The site of the amphitheatre of Roman Londinium where the psychically inclined are often overcome by the "foul stench of death."
The abandoned church where one of the most infamous characters of 17th century English history was laid to rest and where images of strange columns of swirling mist have been captured on camera by several participants on the London Ghost Walk.
The City of London's most paranormally active building where a ghostly Roman soldier has been sighted and where a Victorian lady often returns to chill the marrow of those that work inside.
So if you are looking for an inexpensive, but fascinating and fun-packed, night out in London then join the City's premier ghost walk guide on his acclaimed tour of the darker aspects of London's past and present.