I'LL BE BACK!
St. Thomas's Church, Lapford, Devon
In the village churchyard of St Thomas's Church in Lapford, there stands an intriguing memorial.
It commemorates the Rev. John Arundel Radford, a mid 19th century vicar of the parish who, for reasons unknown, murdered his curate, but was acquitted by the jury at his subsequent trial on the curious grounds that they "had never hanged a parson, and weren't going to start now."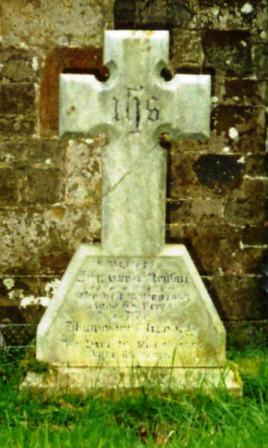 The murderous vicar returned to the bosom of his parish, where he continued with his ministry until his death in 1867.
He left behind him a grieving widow, a modest estate and the ominous threat that, if he wasn't buried inside the church, he'd be back to haunt the village!
However, in view of his past indiscretions, the authorities decreed that he must be buried outside the church and, true to his word, his ghost often paces the neighbourhood, a look of angry disdain upon his face.
There is also a tradition, that the stone cross marking his grave, will never stand upright so long as he remains outside the church.
But stepping into the churchyard, you are immediately struck by the bizarre and awkward angles at which virtually all the tombstones seem to lean.
With the exception, that is, of the cross that stands erect and un-leaning over the grave of the Reverend John Arundel-Radford.