ONWARD CHRISTIAN SOLDIERS
Lewtrenchard Manor, Lewdown, Devon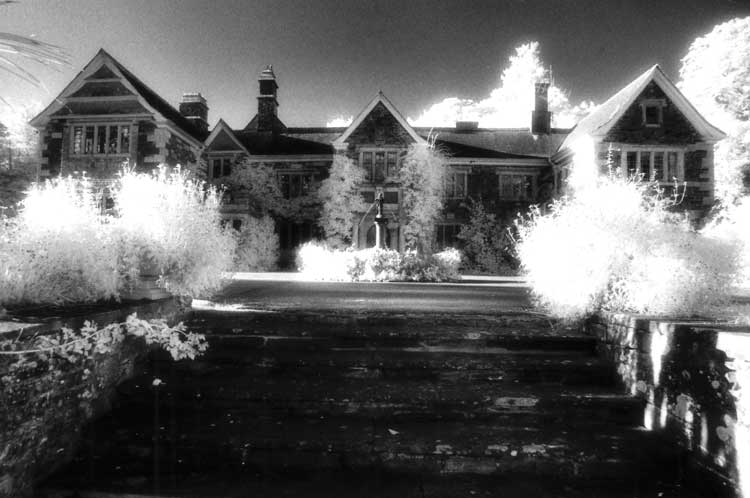 Lewtrenchard Manor dates largely from the early 17th century.
In 1626 its then owner, Sir Thomas Monk, found himself in prison for debt and, in order to alleviate his financial plight he sold Lewtrenchard Manor to Henry Gould, and it is with his descendents that the history of the property is most indelibly linked.
On 19th March 1729, following here wedding at the church, Susannah Gould was heading back up the drive of Lewtrenchard Manor, when she suddenly let out an agonised gasp and dropped dead from heart failure.
Such a tragic end to so happy a day has inevitably left its mark upon the surroundings, and her forlorn phantom is said to drift sadly along the drive where the tragedy occurred, still dressed in her wedding gown.
Disaster almost overcame the family during the tenure of Captain Edward Gould, who in the 18th century made a valiant attempt to squander away the family fortune at the gaming tables.
Nicknamed "the Scamp" by his family, Edward was not beyond resorting to desperate measures to recoup his losses.
On one occasion, having suffered heavily during a game of cards, he dressed up as a highwayman and ambushed his gambling partner as he rode home.
Unfortunately the man resisted and the sadistic Edward shot him dead.
Brought to trial, "the Scamp'" was defended by John Dunning, a member of the family who was a brilliant and ambitious young lawyer.
When the prosecution unveiled their sole witness, a man who claimed to have seen Edward commit the murder, and said that he had recognised his face by moonlight, Dunning produced an almanac showing that there had been no moon on the night of the murder, and so the witness must either be lying or mistaken.
As a result, Edward was acquitted, and only later did it materialise that Dunning himself had had the favourable almanac specially printed!
Unfortunately for Edward, the trial left him penniless, and he died in poverty in 1777.
Edward's mother, Margaret, then took over Lewtrenchard Manor, and with dedicated astuteness set about rescuing the family finances, proving so successful that by the time of her death in 1794 the losses had been reversed and the house considerably improved.
All who had dealings with her seem to have developed a genuine fondness and deep respect for this spirited old matriarch and they gave her the affectionate nickname "Old Madame."
She, for her part, had a great love for Lewtrenchard Manor, and since her death, has returned to the house many times to wander the Long Gallery keeping a watchful eye on the comings and goings at her home.
Her daughter, Margaret, married Charles Baring a member of the Baring's Bank Dynasty and subsequent generations of the family opted for the double-barrelled Baring-Gould.
The most famous of them was the Rev. Sabine Baring-Gould (1834-1924), a prolific writer, and composer of such stirring anthems as Onward Christian Soldiers.
Sabine Baring-Gould took Holy orders in 1864 and was sent as curate to Horbury Bridge in Yorkshire.
It was here that he met and fell in love with a 16 - year-old mill girl named Grace Taylor.
Having seen to it that she received an education, he married her in 1868, and in 1881 they moved to Lewtrenchard Manor, where he settled into his role of being both local squire and local vicar.
Their marriage lasted for 48 happy years, produced fifteen children, and their story is reputed to have provided the inspiration for George Bernard Shaw's Pygmalion.
The size of his family appears to have caused Sabine Baring-Gould more than a little confusion. On one occasion, at a children's party, he is said to have called out to a young child, "and whose little girl are you?" The child promptly burst into tears and cried, "I'm yours Daddy!"
Like "Old Madame" before him Sabine Baring-Gould lavished attention on Lewtrenchard Manor, and it is largely thanks to his efforts that it is in such good condition today.
His portrait hangs in the front hall, whilst Grace's hangs in the back hall, and the whole house seems imbued with his spirit.
It is, indeed, a little piece of secret England, lost in a sylvan landscape on the very brink of the bleak desolation of Dartmoor.
Lewtrenchard Manor is the house that time forgot, a place of memories where ghosts may wander, but always peaceably.