Tiverton Castle, Tiverton, Devon.
Built in 1106 by Richard de Redvers, whose family were the first Earls of Devon, Tiverton Castle was enlarged by their successors, the Courtenays who regarded it as their "head and chief mansion".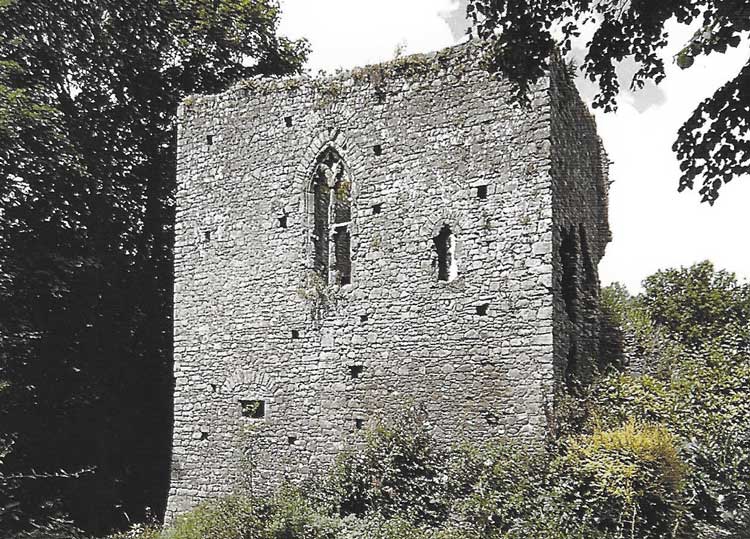 The Courtenays remained here for some 260 years and in 1495 William Courtenay married Princess Katherine Plantagenet, the youngest daughter of Edward 1V and sister to the two Princes in the Tower.
But, following this high point, the senior line of the family died out in 1556, and ownership of the Tiverton Castle having fluctuated between various of William's descendents, passed to the Giffard family.
Held for the King during the Civil War, the castle was besieged by General Fairfax and was taken in October 1645, when a fortuitous shot struck the drawbridge chain.
Thereafter, wealthy wool merchant Peter West, whose daughter married Sir Peter Carew, bought it.
His descendents sold it in 1923 and, following various changes of ownership, it was purchased in 1960 by Ivar Campbell, whose nephew, Angus, inherited it in 1985.
There are several ghost stories associated with the property.
The first dates back to the 17th century when the governor of the castle was Sir Hugh Spencer, a widower whose 21 year old daughter Alice was considered one of the great beauties of the district. Alice had many admirers, but her father considered it his duty to ensure she married only the wealthiest of them.
He chose as his son-in-law Sir Charles Trevor, an immensely wealthy man, several years Alice's senior, who was renowned for his violent temper and sour disposition.
But the manager of Tiverton castle, Maurice Fortescue who, had fallen in love with the girl. However, knowing that her father would never consider him worthy, he kept his feelings to himself.
It so happened that Sir Charles Trevor came to suspect Maurice's love for his fiancÚ and this, coupled with his envy of Fortesucue's good looks, universal popularity and sunny disposition caused resentment to burn within him.
Determined to spite his adversary, he moved to marry Alice as quickly as possible, after which he was determined to flaunt her before Fortescue, and laugh in his face.
As he approached Tiverton Castle, he pictured the hurt his wedding would cause his rival and, letting out a whoop of joy, the dastardly Sir Charles, hurled his hat into the air in jubilation.
At that moment, Maurice Fortescue's faithful hound Vulcan, bounded from the castle, and, having seized hold of the hat, playfully shook it to pieces.
Enraged, Sir Charles drew his sword, and slew the dog on the spot.
Within moments Maurice, who had been following a little way behind, let out a howl of indignation, rushed up to Sir Charles, and floored him with a well-aimed punch.
The slighted fiancÚ demanded satisfaction, and told Fortescue to meet him in the woods near the river at seven that evening.
Maurice was no coward, but Sir Charles Trevor was a renowned swordsman and he knew that his skills would be no match in their duel.
Realising, that his days were numbered, he went to bid Alice farewell, and finally told her of the secret love he harboured for her. It came as little solace when she burst into tears, and told him that she felt the same way towards him.
As he left, she swore that if he were killed, then her heart would die with him. At seven O'clock that evening Sir Charles Trevor and Maurice Fortescue faced each other on the wooded banks of the rain swelled River Exe.
Moments later the clash of steel echoed through the woods, as the two men fought for their honour and their lives. Maurice succeeded in drawing the first blood, inflicting a wound on his rivals arm.
But moments later he was dead, Sir Charles's sword protruding from his neck. Laughing triumphantly, the victor placed a contemptuous boot on his adversary's throat, and having removed his sword, kicked the lifeless body into the river.
Suddenly, a howl of despair sounded from the direction of the castle and Alice, who had been watching the duel from the walls, came running to the river where she followed her lover into its raging waters.
Ever since, when the Exe is in flood, their ghosts, closely followed by the faithful Vulcan, are said to walk together in the woods at the foot of Tiverton Castle.
Alice and Maurice walk arm in arm, chatting happily, delighted to have found in death the unity that was denied them in life.