THIS HOUSE IS HAUNTED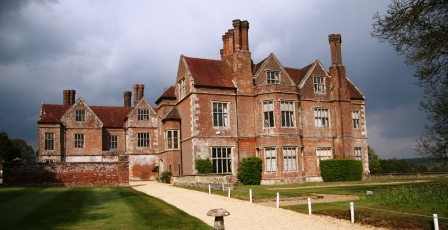 Breamore House, Nr. Fordingbridge, Hampshire
Don't Move The Portrait
In January 1600 William Dodington, the then owner of Breamore House, having become depressed when a legal dispute with his neighbours, the Bulkley's, went against him, flung himself to his death from the tower of St Sepulchre's church in London.
His suicide sent shock waves reverberating through the corridors of power as, in addition to being a powerful Hampshire landowner, he was also the auditor of the Royal mint at the Tower of London.
His suicide note read, "John Bulkeley and his fellows by perjury have brought me to this. Surely after they had thus slandered me, everyday that I lived was to me an hundred deaths, which caused me to choose to die with Infamy, than to live with Infamy and Torment."
His grieving widow, Christian Dodington, commissioned a portrait of herself in her mourning clothing, had it hung inside the house and, later, as she lay on her death bed, she placed a curse on anyone who ever moved or touched the portrait thereafter.
No-one has ever dared put the curse to the test by removing the portrait, although two people have touched it and, in so doing, have incurred the wrath of Christian Dodington.
William Dodington's estate passed to his son, also called William, and things seemed to improve for the family when, on his Coronation Day in 1603, James 1st bestowed a knighthood on him.
However, fate was lurking in the wings to heap further ignominy upon the family and William's son, Henry, incensed by his mother scolding him for his dissolute lifestyle, "drew his sword and ran her twice through, and afterwards, she being dead, gave her many wounds."
Henry was hanged for the crime and his father, Sir William, came to see his father's suicide, his wife's murder and his son's execution, as a punishment from God for the family having built Breamore House on what had, until the Dissolution of the Monasteries, been monastic land.
He therefore set about trying to atone for this transgression by doing good works for the church and taking up public duties.
However, his attempts to redeem his family did little good since only one of his sons, John, survived him, but only by six years, and the family line died out when John's daughter Anne inherited the estate and married Robert Greville, Lord Brooke.
In 1748 the house and estate were purchased by Sir William Hulse, on condition that the portrait of Christian Dodington was not removed.
He passed Breamore House to his son Sir Edward Hulse, 'Physician in Ordinary' to Queen Anne, George I and George II. Sir Edward moved in 1760, and successive generations of his family have been in residence ever since, with a brief absence during the War years (1939 – 1945) when Breamore House was requisitioned by the US Military.
Furniture and art treasures were moved out during the American occupation, but even they didn't dare touch the portrait of Christian Dodington.
Her portrait still looks down on visitors from the position, high up on a wall that it has occupied since she placed her curse upon those who disturb her likeness.
But if a cursed portrait is not sufficient reason for those in search of haunted Britain to pay a visit to Breamore House, there is always the chance of an encounter with the tragic wife of Sir William Dodington, who, having been murdered by her deranged son, still returns in ghostly form to haunt the house's magnificent Blue Room.