SIR WALTER RALEGH'S CURSED ABODE
Sherborne Old Castle, Sherborne, Dorset
In the reign of Elizabeth 1st, Sir Walter Ralegh (1552 –1618) was en route from London to Plymouth when he spied the soaring walls of Sherborne Castle and, literally, fell head over heels in love with it.
According to Sir John Harrington in his Nugae Antiquae, as Sir Walter was exploring the castle grounds, and plotting how he might possess them, his horse suddenly stumbled and Ralegh's "very face, which was then thought a very good face, ploughed up the earth where he fell."
Sherborne Castle had been built in the 12th century by one of the great fighting bishops of the age, Roger of Sarum.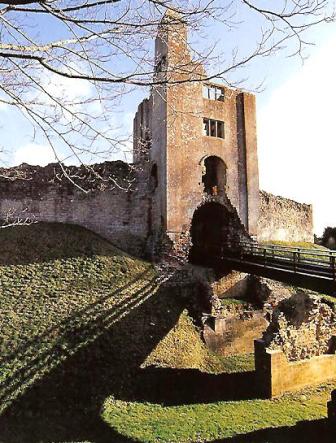 By the time Ralegh began casting covetous eyes upon its hallowed walls, it was still owned by his successors in the See of Salisbury.
Unperturbed by a curse placed on the property by a former Bishop of Salisbury, St Osmund, that threatened destruction to anyone who removed the castle ecclesiastical hands, Sir Walter began dropping hints to the Queen that she might like to reward his services with the gift of his dream home.
His persistence paid off and, in January 1592, he was awarded a ninety-nine year lease on Sherborne Castle.
Almost immediately the dark shadow of St Osmund's curse fell upon him.
Unbeknown to the Queen, Sir Walter had secretly married Elizabeth Throckmorton - one of her cherished and jealously guarded maids of honour.
On 29th March 1592, Bess gave birth to a son, and shortly afterwards court gossip brought their indiscretion to the Queen's attention. She was, according to a courtier, "most fiercely incensed and threatens the most bitter punishment to both offenders."
Having incurred the infamous royal wrath, the proud parents were soon languishing in the Tower of London, where such was Ralegh's despondency, that he attempted suicide, and was only saved by the timely intervention of an official who wrenched the dagger from his grip.
Ralegh was released from captivity in September, when he was called upon to quell riotous looting amongst sailors at Dartmouth.
But once his mission had been accomplished, he was returned to The Tower, where he and Bess remained until their release just before Christmas, 1592.
The couple returned to Sherborne Castle where, now in disgrace, Ralegh began embellishing their rural retreat.
But the cost of modernising the old castle proved exorbitant, and so the family abandoned it and built, instead, a suitably impressive home in Sherborne's old deer park.
It was here, as he enjoyed a pipe of tobacco beneath the spreading branches of a great oak, that one of Ralegh's servants is said to have doused him with a pitcher of beer in the mistaken belief that his masters' beard was on fire.
Although Sir Walter Ralegh would later win his way back into Elizabeth 1st's favour, the curse struck again when her successor, James 1st, ascended the throne.
In July 1603, Ralegh was implicated in a plot, instigated by Lord Cobham, to replace James with his cousin, Lady Arabella Stewart.
Shortly afterwards, he was again confined to the Tower of London, although this time the charge was the far more high treason.
Found guilty at his subsequent trial, Ralegh was sentenced to death, and although his life was spared, remained behind the grim walls of the forbidding fortress for the next thirteen years, and his beloved estate at Sherborne (including the old castle) was given to James's favourite, Robert Carr, Earl of Somerset.
No sooner had he moved in, than St Osmund's curse blighted the new owner of Sherborn Castle.
Robert Carr had fallen in love with the beautiful Frances Howard, the child bride of Robert Devereux, the Earl of Essex.
Wishing to save herself for Carr, Frances Howard consulted a quack astrologer who provided drugs that would render her husband impotent.
For three years the unfortunate Devereux struggled to consummate his marriage, before his inability to so led to divorce and, in 1613, following the Kings intervention, Frances Howard was at last free to marry Robert Carr.
But Carr's mentor, Sir Thomas Overbury, made no secret of his dislike for this Frances and her ambitious family, and urged his protégé to reconsider.
He had, however, underestimated the influence that Frances and, more particularly her uncle, Henry Howard, wielded at court and, following another intervention by James 1st, Sir Thomas was sent to The Tower of London.
Here, Frances Howard, assisted by a compliant gaoler, Gervase Elwys, began supplying him with delectable nibbles, such as jellies and tarts, each one lovingly mixed by her own hand, and all loathingly laced with poison. Sir Thomas died in excruciating pain.
The Howard's managed to keep secret their involvement in his death for almost a year.
But then, with rumours gaining ever-wider circulation, Elwys panicked and confessed everything.
The subsequent scandal severely discredited the court of James 1st, and he quickly withdrew his favouritism from Robert Carr who, not only lost Sherborn Castle, but also - as if re-iterating the power of St Osmund's curse – found himself incarcerated in Ralegh's newly vacated apartments at the Tower of London.
Fortunately for him, his social standing and previous place in James's affections meant that he was spared the ignominy of execution.
Ralegh had been released just a week earlier, having persuaded James to send him on a voyage to bring back treasure from Guiana.
Following almost a year of preparation, Ralegh set sail in 1617. The escapade was a disaster, marred throughout by illness and crew mutinies, and ending in a catastrophic clash with the Spanish, during which Ralegh's own son, Walter, was killed when he disobeyed the Kings orders, and led a charge against the citadel at St Thome.
Ordered back to England by a furious James 1st, Ralegh was once more imprisoned in the Tower of London from where he was taken for trial and, on 28th October 1618, was informed that he was to be beheaded the next morning.
Ralegh went to his death bravely. As he stood on the scaffold he asked to see the axe and, running his finger along its blade, pronounced it "a sharp medicine, but.. a sure cure for all diseases."
As he knelt at the block, someone asked him if he would prefer to face eastwards, looking towards the Promised Land. "So the heart be right," he replied, "it is no matter which way the head lieth."
He refused a blindfold, observing stoically, "Think you I fear the shadow of the axe when I fear not the axe itself?"
Having prayed for a minute, Ralegh gave the signal for the axe to fall. But the executioner was unable to move. Again the signal was given, but still the axe-man remained motionless. "What dost thou fear?" Cried Ralegh. "Strike, man, strike!"
At this the executioner finally struck, but took two blows to remove Ralegh's head.
Holding it aloft by its blood drenched silver hair, the executioner attempted to pronounce the traditional denunciation, "Behold the head of a traitor."
But the words wouldn't come, and it was left to an anonymous voice from the crowd to express the sentiments of most present, "we have not another such head to be cut off!"
By the time of his execution, Ralegh's beloved Sherborn estate had been sold to Sir John Digby (1580-1653), whose descendents still own it.
During the Civil War the original 12th century stronghold of the Bishop's of Salisbury was reduced to a ruin, and the nearby lodge, built by Ralegh in 1594, assumed the title of Sherborne Castle.
Today, the crumbling walls of Sherborne Old Castle provide a sharp contrast to the stately grandeur of what is now the family home of the Wingfield Digby's.
It is to the grounds hereabouts that the proud spirit of Sir Walter Ralegh makes an annual pilgrimage on St Michael's Eve (September 29th), to roam the grounds of Sherborne Old Castle, the place where, despite his being in disgrace, he spent some of his happiest and most settled years.