Old Sarum, Nr Salisbury, Wiltshire
Old Sarum was first settled in the Bronze Age. Thereafter the Roman's, Saxons, Danes and finally the Normans occupied it.
It became a bishopric in 1075 and the saintly Bishop, Osmund, began its cathedral.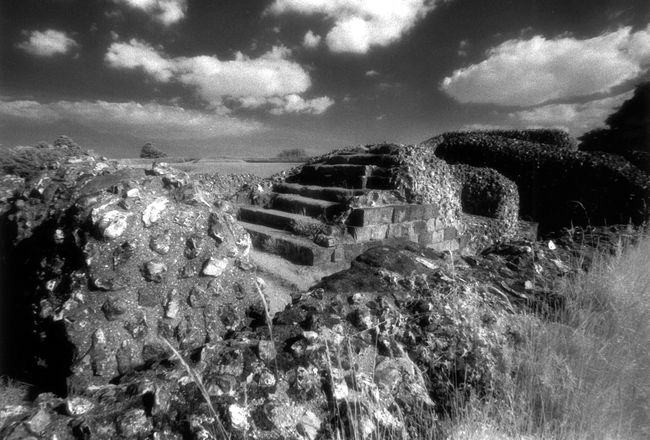 His successor, Bishop Roger, was a different type of churchman altogether.
His rise to eminence began when Henry 1 stopped to hear mass at the church where Roger was officiating and, delighted by the speed of the service, made him Royal Chaplain.
Such were Roger's administrative skills that he was soon appointed Chancellor and awarded the Bishopric at Sarum.
Now one of the richest and most powerful men in the country, he rebuilt the Cathedral of Sarum, refortified the castle and awarded positions of influence to his mistress and their son.
But, following Henry's death, officers of the new King, Stephen, arrested Roger, charged him with treason and stripped him of his power and wealth. He died shortly afterwards of a broken heart.
With Bishop Roger's fall from favour, Old Sarum went into decline and constant friction arose between the civil and religious authorities. This, coupled with the disadvantages of the site, which included a shortage of water, decided the Dean and Chapter to petition for their cathedral to be removed to the plain below.
The building, they complained, was subject to continuous gusts of wind, that made so much noise that it was impossible for the clerks to hear one another sing.
Furthermore, the sites lack of trees and grass meant that the chalk on which it stood gave off such a glare, that many of the clergy had gone blind. "Let us in God's name," they pleaded, "descend into the plain."
Their prayers were answered and in 1220, under the leadership of Bishop Poore, the clergy began the removal. Legend says that an archer was asked to shoot an arrow from the heights of Old Sarum and, where it fell, Salisbury Cathedral was built.
Where the clergy led, the townsfolk followed, and soon Old Sarum was little more than a ghost town. Bramble, bracken, nettle and ivy crept over its walls and sprang through its pathways as nature reclaimed the hilltop.
Today an aura of indefinable mystery, amplified by the serenity of the surrounding countryside, emanates from the earthen mounds and rain- washed stones, giving the distinct impression that the eyes of bygone residents are following your every step along the timeworn corridors and pathways.