THE SAD LADY AND THE TERRIFIED PRIEST
Hellens, Much Marple, Nr. Ledbury, Herefordshire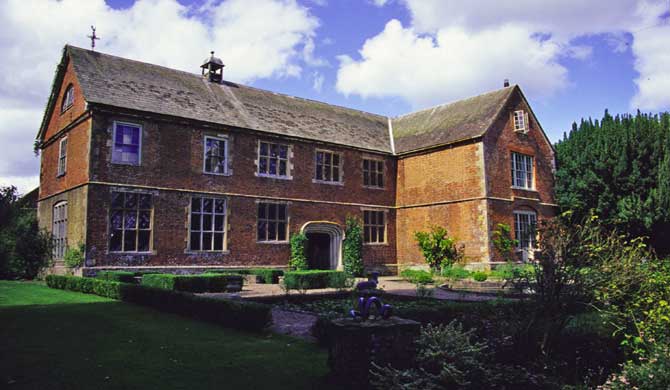 During the English Civil War, Fulke Walwyn rode out through the 17th-century wrought-iron gates of his family home, Hellens at Much Marple, and headed off to lend his support to a besieged Charles 1st.
Unfortunately when Charles 1st's army was routed by the Parliamentarians, Fulke was unable to return home to Hellens and chose instead to keep a low profile in nearby Hereford.
The grand gates, which had been locked behind him, were never re-opened and they remain locked to this day, almost four hundred years later, just one of the many curiosities at Hellens - a truly curious house that is steeped in both history and legend.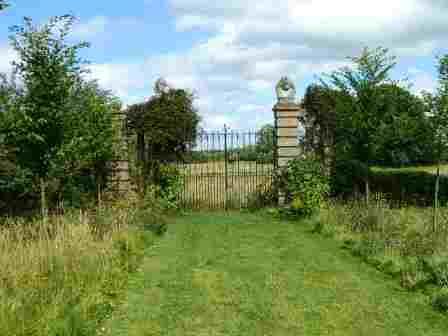 HETTY WALWYN'S MOURNFUL WRAITH
It's most famous ghost story is centred on the John Walwyn bedchamber named for the 17th century owner of the house whose youngest daughter, Mehettabel, or Hetty, eloped with a man whom the family considered to be beneath her social class.
By the time she was twenty her husband had died and Hetty returned home where her unforgiving family, locked her in the bedchamber for thirty years, because she had brought social disgrace upon them, and her indiscretion had rendered her unmarriageable.
A length of rope, connected to a bell in the roof, still hangs through the ceiling into the room.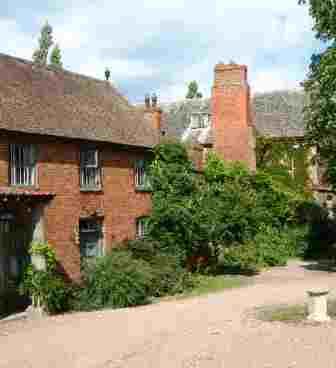 This was her only means of letting the rest of the family know if she was in trouble.
She whiled away her time gazing down onto the courtyard below and using her diamond ring to engrave upon a window pane the poignant lament: "It is a part of virtue to abstain from what we love if it should prove our bane."
Her words can still be read today and her ghost is the most prominent of several that wander the night hours at Hellens.
Curator Nicholas Stephens, who lives at the house with his family, told a local Newspaper "…I did see Hetty myself a couple of years ago. I was sleeping in the room above hers when I saw her. It wasn't a fleeting glance, she stayed there for a sustained time..."
THE MURDERED PRIEST STILL WALKS
Hellens other haunting centres on Queen Mary's Room, so called because Mary Tudor is reputed to have stayed there.
The ghost belongs to the turbulent Cromwelian period when Catholicism was outlawed.
An elderly Catholic priest was being sheltered by the family at the Hellens.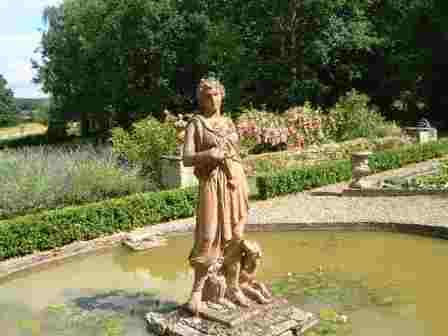 One day a band of Parliamentarian soldiers launched a raid and caught the priest unawares in the hallway.
Desperate to evaded them he fled up the stairs in search of a suitable hiding place. But the roundheads were in hot pursuit and having cornered him in Queen Mary's room, they cold-bloodedly hacked him to death.
Needless to say the trauma of his demise has left traces on the surroundings and several people staying in the room have seen his ghost.
THE GHOST IS SEEN
On one occasion a naval lieutenant was sleeping there when he awoke to find a male figure dressed in a long dark dressing-gown with a hood frantically running backwards and forwards between the window and the door. So real did the figure appear that the lieutenant didn't even realise that it was a ghost and thought he was witnessing "some dotty old member of the family who had escaped from his keeper!" It was only later that he learnt that he had in fact witnessed the revenant of the murdered priest.
A HOUSE WHERE PAST AND PRESENT MINGLE
Hellens is one of those special places where past and present mingle and where the mark of history is imprinted on every inch of the ancient fabric.
As you explore its atmospheric interior you get the very real sense that the eyes of past occupants are upon you and it would come as little surprise if a figure in period costume suddenly stepped from the shadows and extended a hand of welcome to Hellens - a house that is well and truly timeless and over which both a haunted and a haunting quality pervade.