FAMILY GHOSTS AND SECRET LIAISONS
Hanbury Hall, Droitwich, Worcestershire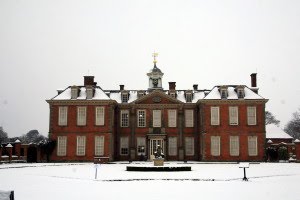 In 1580 the Reverend Richard Vernon (1549 – 1628) arrived in the village of Hanbury to take up his post as local vicar.
Over the next fifty years he and his family would purchase land in the area and, by 1630, his eldest son, Edward, had bought the manor house and the Vernons began an association with Hanbury Hall that would - apart from an absence of some fifteen or so years in the late 18th and early 19th centuries - last until 1962 when the house was taken over by the National Trust.
The man responsible for the present William and Mary style house, which was completed in 1706, was the immensely wealthy lawyer Thomas Vernon, Richard's great grandson.
However, the ghost of Hanbury Hall belongs to a later generation of the family and the story of the events behind the haunting is almost Shakespearean in the twists and turns of its plot, featuring, as it does, unrequited love, betrayal and a fair smattering of tragedy.
Emma Vernon (1754- 1818) spent her childhood at Hanbury Hall. She grew up to become a renowned society beauty and her good looks, coupled with fact that the she was heiress to the Hanbury estate, made her extremely desirable as a potential wife.
It was Henry Cecil, Earl of Exeter in waiting, who married Emma in 1776 and the couple set about remodelling parts of the house to turn it into a suitable family abode.
Unfortunately, a combination of factors combined to ensure that the course of true love would, in their case, most certainly not run smoothly.
Firstly, they got into heavy debt. Secondly, although they had several children none of them survived infancy.
As a consequence the couple became disillusioned with each other and began to grow apart. In 1785, the local vicar, William Burslem, took on a new curate by the name of William Sneyd.
Soon Sneyd was a regular guest at the Hanbury Hall dinner table at which, unbeknown to her husband, he had caught Emma's eye.
By 1789, the lady of the house and the parish curate were conducting an illicit liaison, with Emma stealing away from her husband as often as she could to spend time with her lover.
The couple were desperate to be together and hatched a cunning plan that they hoped would make that possible.
On June 12th 1789 the Cecils went to Birmingham on business. Emma had sent word of their destination to Sneyd and, with her husband away at a meeting, the two lovers met at an inn from which they eloped.
Over the next few months they travelled together as man and wife, staying at a variety of inns and hotels around the country.
The crestfallen Henry, unable to bear the thought of remaining at Hanbury Hall, retreated to a farmhouse in Shropshire, where he lodged with one Thomas Goggins and his family, adopting the nom de plume John Jones to keep his true identity and social status secret from his hosts.
But it wasn't long before he had fallen in love with Goggins's beautiful sixteen year old daughter Sarah, also known as Sally.
On 10th June 1791 he divorced Emma and, in the October of that year, he and Sally were married.
The divorce left Emma free to marry Sneyd, which she did that same year, although their happiness was short lived, as he died in 1793.
As for Hanbury Hall, following the divorce Cecil refused to allow his wife to return to her beloved house and he sold off all the contents.
It remained empty until his death in 1804, after which Emma was able to move back in and she lived out the remainder of her days there with her third husband John Philips until her death in 1818.
The emotional impact of those long ago events has, apparently, lingered on at Hanbury Hall and there have been a number of sightings of Emma's ghost, dressed in black, around the grounds.
She is especially fond of drifting serenely along the route between the house and the church that her living self used to take to enjoy her trysts with her lover.