Dunster Castle, Dunster, Somerset.
Rising from its sylvan cradle the dramatic towers and majestic gables of Dunster Castle present as picturesque a stronghold as you could wish to encounter.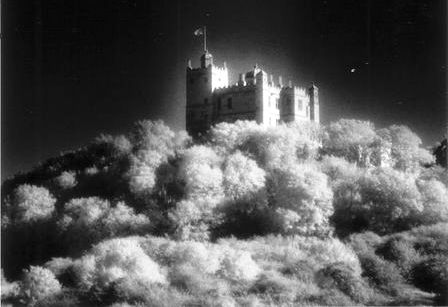 William de Mohun built the original castle on a site granted him by William the Conqueror.
THE SCOURGE OF THE WEST
His most infamous descendent was the third William de Mohun, a fanatical supporter of the Empress Matilda in her Civil War against King Stephen.
He was known as the "Scourge of the West" on account of his frequent bouts of plunder and burning in the locality. When Stephen besieged the stronghold, de Mohun set about minting his own coinage here, an action that may be responsible for the ghostly chinking of money that is often heard about the castle, especially on the nights of a full moon.
The direct male line of the family died out in 1376, and ownership of Dunster Castle passed to Lady Elizabeth Luttrell whose descendents owned it for almost six centuries. It was they who probably built the imposing gatehouse, which dates from around 1400 and is now the oldest part of Dunster Castle.
THE ROYALISTS TAKE OVER THE CASTLE
In the Civil War, although the Luttrell's were not Royalists, Dunster Castle was seized and held by a Royalist garrison.
Besieged by the Parliamentarians, who battered its walls with their heavy artillery, the governor Colonel Wyndham held out for 160 days.
JUST DO YOUR DUTY
At one point, legend claims, the Roundhead commander, Colonel Blake, threatened to stand Wyndham's mother in the line of fire, unless he surrendered.
However, when the spirited old lady gallantly urged her son to just do his duty, Blake reconsidered and backed down.
But in April 1646, with the Royalist strongholds everywhere hauling down their flags in despair at the collapse of their cause, Wyndham finally surrendered Dunster Castle.
THE GHOSTLY OLD WOMAN
Every so often the proud figure of an elderly woman, garbed in 17th century dress, has been seen flitting fitfully around the corridors and precincts of the castle.
She is a silent and harmless spectre whose favoured time of walking is whenever the air hereabouts is heavy with thunder.
By the 19th century the Lutterell family were intent on making their castle more comely than commanding, and they employed the services of Anthony Salvin who carried out considerable remodelling.
THE VANISHING ROUNDHEAD
The result is the delightful castle that is now owned by the National Trust and where, in addition to the aforementioned hauntings, a ghostly Roundhead makes occasional returns to the gatehouse's spectacular Leather Room, where his habit of disappearing into a close and solid door both amazes and astonishes visitors.