Cadbury Castle, South Cadbury, Somerset
A few miles from the Dorset/Somerset border, a tree-shrouded hill looms large over the patchwork landscape of hedgerows and fields, its nebulous reach extending far back into the foggy mists of time.
Having undertaken the ankle-jarring climb to the lofty heights of what was originally an iron age hill-fort, the exhausted wayfarer is treated to a stunning vista of breathtaking splendour, and it comes as little surprise to find that this truly regal summit has long held the crown of being the likeliest contender for King Arthur's Camelot.
NOT WHAT YOU'D EXPECT A CASTLE TO BE
The King Arthur of popular imagination is, of course, a medieval invention and those who arrive at Cadbury Castle expecting to find a turreted fortress of soaring walls and lofty towers, are destined for disappointment.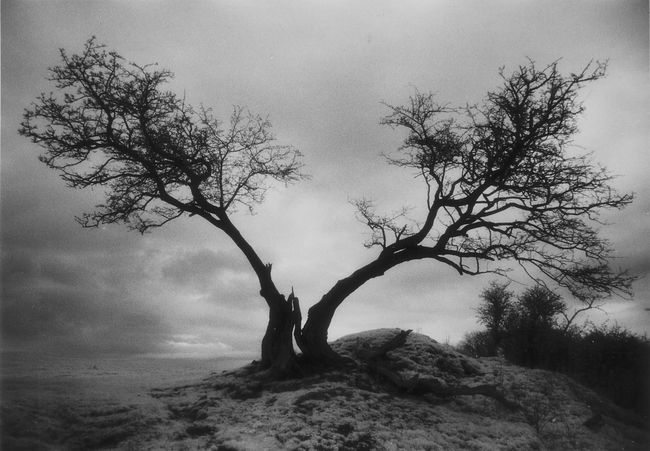 Cadbury has never boasted that sort of Norman bastion. It is the fortified hill itself that was the castle. But, if there was an historical Arthur, he is most likely to have lived in the 5th or 6th Centuries, and this is just the sort of hilltop stronghold that he would have inhabited.
The first known reference to Cadbury as Camelot is from the antiquarian John Leland who, in 1542, wrote that:-
"...At the very south end of the church of South-Cadbury standeth Camallate, sometime a famous town or castle…. The people can tell nothing there but that they have heard say Arthur much resorted to Camalat..."
THE REALM OF ARTHURIAN LEGEND
Despite claims by sceptics that Leland invented the Camelot association, and that prior to him there was no such tradition, Arthurian lore has certainly abounded round the site ever since.
An ancient track that runs from the base of the hill towards Glastonbury has long been known as King Arthur's Hunting Track.
WHERE ARTHUR SLEEPS?
Another established tradition maintains that Arthur sleeps beyond a pair of hidden iron gates in a cave that lies deep beneath the hill.
Indeed, so ingrained was this legend by the 19th century that, when a group of Victorian archaeologists came to the district, an old man enquired earnestly if they had come to "dig up the king?"
KING ARTHUR RIDES AGAIN
As early as 1586, the highest section of the summit was known as Arthur's Palace, whilst on Midsummer's Night or Christmas Eve, Arthur and his Knights are said to come galloping down from the brow of the hill to water their horses in a spring beside Sutton Montis Church.
Interestingly, an archaeological investigation of the eighteen-acre site in the late 1960s, revealed that the Iron-Age hill fort atop the hill had been massively re-fortified during the sixth century at the time when Arthur is believed to have flourished.
A COLOSSAL UNDERTAKING
So colossal was the undertaking that, whoever ordered it, must have been a powerful and significant figure.
Of course, it is little more than romantic speculation to suggest that that figure was King Arthur.
Indeed, the closest we can ever come to claiming Cadbury Castle as the site where Britain's most legendary monarch constructed its most mythical castle is to say cautiously "it might have been," and that in all honesty is as near as we can hope to get to finding the elusively historical King Arthur.