TINTAGEL CASTLE, TINTAGEL, CORNWALL
Only ragged vestiges now survive of this once mighty fortress whose sullen grey walls cling tenaciously to a cliff-top that has been broken in two by the interminable assault of the ocean beneath.
With each passing year, more of the rock face collapses into the raging waters and it is only a matter of time before the remnants of the castle follow and its potent spell will become but a distant memory.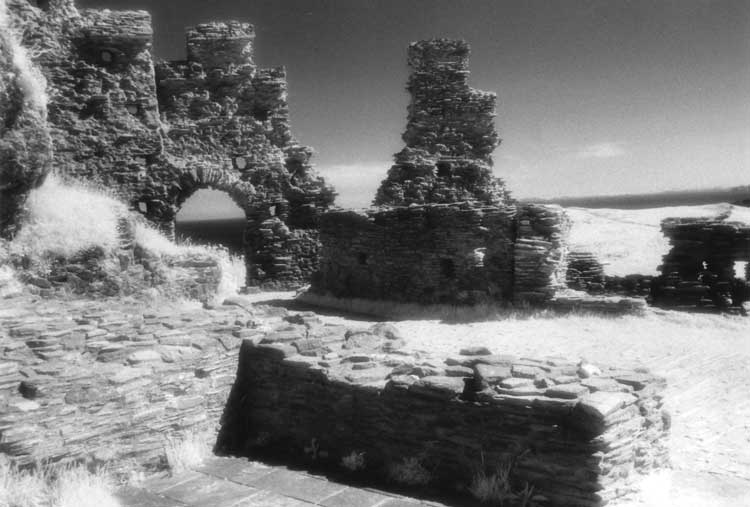 Although the present structure dates from the 13th Century, tradition has bestowed a much older and illustrious pedigree upon these sombre ruins, claiming them as the place where King Arthur, was conceived.
One Easter a great feast was held at the court of King Uther Pendragon and among those who attended was Gorlois, Duke of Cornwall, whose wife Ygerna was considered one of the great beauties of the age.
When Uther set eyes on her he was smitten and made his feelings so obvious that, Gorlois took his wife back to Cornwall and locked her inside his Castle at Tintagel.
Not one to be easily thwarted. Uther besieged Tintagel Castle and, when it proved impregnable, sought the assistance of his mentor, Merlin, who used his magic to make Uther resemble Gorlois.
In this Uther he was admitted into the Castle and Ygerna, thinking he was her husband, spent the night with him and, thus, Arthur was conceived.
The next day Gorlois was killed in battle and Ygerna agreed to marry Uther, thus legitimising their unborn child and making him heir to the throne.
Of course, historians are very much divided as to whether Arthur actually existed and, if he did, whether he ever set foot in this rugged, cliff top fortress.
But in 1998, the discovery on the site of the "Artognou stone" sent waves of excitement rippling through the world of Arthurian belief.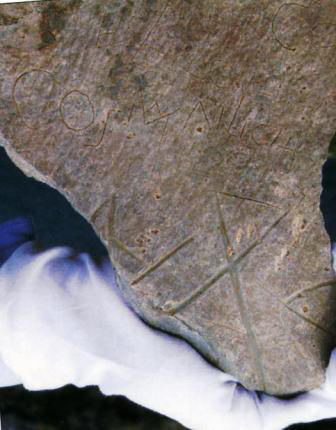 Its 6th century Latin inscription translates as "Artognou father of a descendent of Col made this". It has been suggested that it was the foundation stone for a much older structure that once stood on the site and the similarity between "Artognou" and "Arthur" is, to say the least, intriguing.
But for the thousands of visitors that, each year, make the ankle - jarring climb to the cliff top ruins, proof is unimportant.
For them this is a place where history and fable can exist side by side, and where the magic of Merlin, coupled with the powerful imagery of Arthur, instils a sense of timeless wonder.